How High is Mount McKinley?
Located in Alaska, Mount McKinley is the focal point of Denali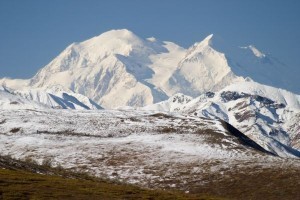 National Park. It is considered the highest mountain peak, not only in Alaska, but also in the entire North America. Compared to Mount Everest, it has a larger rise and bulk. It features an extremely cold weather. Because of its high latitude, climbers are bound to experience altitude illness. It is part of the Alaska Range, which ranks third in prominence measuring 20,138 feet or 6,138 meters. In addition to these, there are more to learn about this place including the height of Mount McKinley.
The Height of Mount McKinley
How high is Mount McKinley? The height of this mountain is 20,320 feet or 6,194 meters, which is called the South Summit. The North Summit is a bit lower, with an elevation measuring 19,470 feet or 5,934 meters. This mountain feeds five different glaciers, namely the Kahiltna Glacier to the southwest side, the Ruth Glacier to the southeast, the Traleika Glacier to the east, the Muldrow Glacier to the northeast and the Peters Glacier to the northwest.
Additional Facts and Other Important Information
The easiest way towards the summit of Mount McKinley is called the West Buttress Route. Aside from the North Summit, there are separate peaks including the Browne Tower, which has an elevation measuring 14,530 feet or 4,429 meters. The East Buttress has a height of 14,730 feet or 4,490 meters. The South Buttress stands tall at 15,885 feet or 4,842 meters. It is also important to take note on other nearby peaks such as the Moose's Tooth, Mount Huntington and Mount Foraker. The other two are Mount Dickey and Mount Hunter.
In 1990, the Japan Alpine Club decided to install a meteorological station along the ridge close to the Denali summit. It has an altitude measuring 5,710 meters. It was later on donated to the University of Alaska Fairbanks International Arctic Research Center.
The first successful ascent to the Mount McKinley summit took place in 1913, which was made by a group that included Robert Tatum, Harry Karstens, and Walter Harper. The second successful ascent happened in 1932, a group comprised of American sportsman Alfred Lindley together with other individuals such as Erling Strom, Grant Pearson and Harry Like. The first woman ever to climb the summit was Barbara Washburn, wife of notable mountaineer Bradford Washburn. In 1970, a Japanese adventurer named Naomi Uemura completed the very first solo ascent to the mountain's summit. In 1982, Miri Ercolani became the very first woman to do the very same feat.