How Big Is Mall of America
The total size of Mall of America is 4,200,000 sq ft (390,000 m2). It is the second largest mall in the US in terms of retail space.
Facts and Figures
The mall is big enough seven Yankee Stadiums can be placed inside it. It will still have a retail space of 2,500,000 sq ft (232,000 m2). In terms of shape, the building is symmetrical. There are currently 520 stores in the complex. They are configured along three pedestrian walkway levels by the rectangle's sides. On the East side is a fourth level.
Design
There are four anchor shops set at the corners. Mall of America is segregated into four parts. Each one is set up differently. The entrances and the ground areas have heating features. Most of the lighting is courtesy of different lighting fixtures. There are also air conditioning systems installed in the mall. All the stores have heating mechanisms installed too.
The size of Mall of America requires a lot of parking space. There are two 7 storey ramps on the west and east side. These provide parking space up to 12,287. At the north of the building, there is extra space for about 1,300 vehicles.
The Nickelodeon Universe
The Nickelodeon Universe is the mall's indoor theme park. This used to be called Camp Snoopy and Knott's Camp Snoopy. There are several features in the park. Among the most popular are the rides and roller coasters.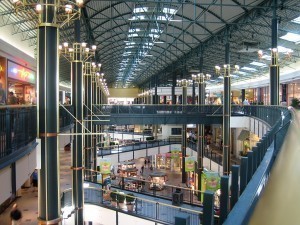 The Nickelodeon Universe is the biggest indoor park in America. Another noteworthy feature of the park is the natural foliage. The floor height of the park varies. The tallest ground level is 4.5 m or 15 feet.
Other Features
Two of its more popular attractions are the Avatar Airbender and the SpongeBob SquarePants Rock Bottom Plunge. The Brain Surge is another popular ride. The Moose Mountain is for golf enthusiasts. The Underwater Adventures Aquarium is another popular attraction. One can view thousands of sea animals including sharks, stingrays, and turtles. This can be done by going through a 14 feet tunnel.
The Underwater Adventures also allows for snorkeling. There is also a 14-screen movie theater, A.C.E.S. flight simulations and a large Lego store. There are also baseballs artifacts in the mall.
The size of Mall of America is matched by the number of people visiting it. Since the store was opened in 1992, the mall has been receiving millions of visitors. Over 40 million dropped by the mall in 2006 alone.