Guitars are stringed musical instruments played by plucking the strings, usually with the use of a guitar pick. There are various types of guitars and these come in several different sizes as well.
There are sizes suitable for kids who want to start learning how to play the instrument early on and there are likewise guitar sizes suitable for adults.
As mentioned, guitars come in a variety of sizes. A typical acoustic guitar would measure about 20 to 25 inches long, 14 to 18 inches wide and approximately 3 to 6 inches deep.
An electric guitar on the other hand, would measure about 42 inches long, 16 inches wide and about 5 to 6 inches deep.
A size that is suitable for kids meanwhile will be about 13 inches in height, 3 inches wide and approximately 30 to 36 inches deep.
There are also classical guitars and depending on the manufacturer, these also come in several different sizes. Among the sizes that you will find for this type of guitar are: 34 inches long, 13 inches wide and 4 inches deep; 40 inches long, 15 inches wide and 4 inches deep; 41 inches long, 16 inches wide and 4 inches deep; and 45 inches long, 30 inches wide and 5 inches deep.
These are approximate sizes provided for your reference guide. To find the perfect fit for you or your kids, it is recommended that you try the guitars of your choice on for size.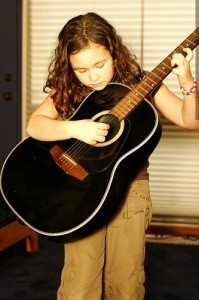 Different Types of Guitars
There are basically two classifications of guitars: one is acoustic and the other, electric.
From these two classifications, the acoustic guitar has several other types: classical, steel-string and archtop.
A classical guitar has nylon strings and flatter and wider neck as compared to other acoustic guitars. These features enable the player to perform scales as well as arpeggios.
A steel-string guitar on the other hand is what is more commonly known as simply an acoustic guitar. As its name suggests, the strings used here are made from steel materials. These make the sound more defined and louder.
Finally, there is the archtop guitar which, as its name suggests, has an arched top and an arched back as well. This type of guitar also has steel strings and is more popularly used when playing jazz or blues music.
An electric guitar needs an amplifier for the sound to resonate. This guitar is popular for most types of musical genres from blues to jazz, country and flamenco, reggae, soul and of course rock music.