How big is a 1/2 Sheet Cake
Sheet cakes – rectangular-shaped cakes — are quite becoming popular. It helps make every occasion special. It can also be a very handy yet very meaningful gift.
Sheet cakes can be found in grocery stores and supermarkets. They are usually found on display in bakeries all over. They offer a nice option for people looking for occasion cakes intended to make every birthday, graduation, baptismal, anniversary and whatnots extra special. They are also good to-go gifts – for people who are looking for something to please the receiver with much less effort. Who doesn't love cakes?
What is so good about sheet cakes is that they can be personalized in easy and simple steps. They are ready-made and as soon as you pick one for your intended occasion, you can have it printed with your message right there and then.
Another good thing about sheet cakes is that they come in three different sizes — whole, half, and quarter. If you think a whole sheet cake is too big and a quarter is just too small, you guessed it right, the half sheet cake makes for the ideal size.
How big is a ½ sheet cake? Well, it depends. Half sheet cakes from bakeries are usually sized at a large 16×12 inches while the ones baked at home is only 13×9 inches. The difference is usually about the pan used. Home-cooked sheet cakes mostly only have access to the typical pan size.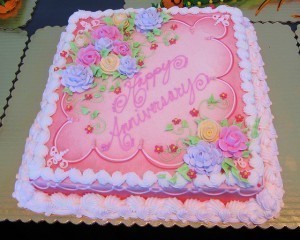 Don't underestimate a half sheet cake's size. This much cake can feed between 18 to 40 people. That's depending, of course, on the size of the serving portion and on how many people would actually pass or ask for a second serving.
If you need to serve more people than a regular one-layer half sheet cake can, you can always resort to a two-layered variety. This, of course, is about more cake with about the same size that can fit into your buffet table.
A lot of people like to go for the half sheet cake than the round or square varieties. That's because it provides a bigger space for writing and for whatever decorations you may require. Plus, you can make it into every flavor of chocolate, mocha, orange, and whatnot or color imaginable. It may look like a humble cake for some compared to specialty cakes but it definitely scores big on the taste and the level of fulfillment any kind of crowd would possibly enjoy.