Size of a Meat Thermometer
A meat thermometer will inform you of the exact temperature the food is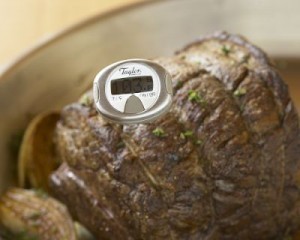 being cooked at. Using this device, you can eliminate guesswork and know when it is done.
Meat Thermometer Size: CDN Proaccurate
The CDN Proaccurate stainless digital thermometer measures 6 x 1 x 2 inches and weighs 8 ounces. It has a 5 inch stem. The casing is stainless. It also has a data hold feature and comes with an auto off feature.
The thermometer is designed for various types of cooking, but is especially suited for grilling. The CDN Proaccurate thermometer can measure from -40 up to 350 degrees Fahrenheit. The thermometer is safe to use in a dishwasher.
The reading is < 3 seconds. The display makes it possible to read at various angles and low light. There is a toggle button to switch the display from metric to English.
Meat Thermometer Size: Polder
The Polder Original Cooking All-In-One Timer/Thermometer measures 8.7 x 6.4 x 1.5 inches. There is a pre-settable alarm included. This works for time and temperature. This feature may be configured to go off when the desired temperature or time is reached.
The range is from 32 to 392 degrees F. There is a probe included measuring 43 inches. The device comes with the AAA battery needed to run it. There is a memory setting for storing often used settings. The device can be used when cooking turkey or roast in your oven. It has two magnets so it can be stuck on metallic surfaces.
Meat Thermometer Size: Taylor Classic
The Taylor Classic thermometer measures 3 x 3 x 5.5 inches. The dial measures 2-3/4 inches for easy reading. The temperature range is 120 to 200 degrees F. Because it starts reading at 120 F, it becomes easier to cook in medium rare.
The guide on the dial shows the correct temperature for cooking chicken, meat, well done turkey and others. You can use the red arrow as a reminder of the required temperature.
The thermometer is constructed from stainless steel and comes with a 4 ½ inch stem. After using it for cooking, the Taylor Classic may be used in a dishwasher. The thermometer has been designed to be durable.
Meat Thermometer Size: CDN Q2-450
The CDN Q2-450 Proaccurate thermometer measures 1.6 x 1.4 x 6.2 inches. It is a self calibrating tool and has a magnifying lens. The device is premium stainless steel and comes with a protective sheath.
The CDN Q2-450 Proaccurate thermometer comes with an auto turnoff timer that goes off after ten minutes. It is waterproof. The response is in 1.2 seconds. The thermometer does not have to be inserted too deeply when measuring liquids.
The CDN Q2-450 meat thermometer requires batteries to run. The battery door is made with silicone gasket. This helps keep the device waterproof.
The meat thermometer size is not as important as the accuracy of the reading. If you are going to buy one of these devices, you need to check the housing construction and if the temp range is right for your needs.