Hot Wheels Car Dimensions
Hot Wheels is considered as one of the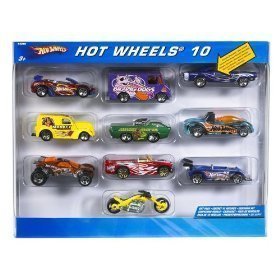 leading brands of die cast toy cars worldwide. The American toy manufacturer Mattel initially released it in September 1968. Until 1996, it competed against other leading brands such as Matchbox and Johnny Lightning. The competition only ended when Mattel decided to acquire Tyco's Matchbox brand. In addition to these facts, it is also quite interesting to find out the hot wheels car dimensions.
The Dimensions of a Hot Wheels Car
Regular Hot Wheels vehicles usually follow the 1/64 scale model. This means that each of these cars has a height of approximately 1 inch and a length close to 3 inches. However, the size of each toy vehicle depends on the car model from which it is patterned. Not only is this toy brand popular amongst children, but also among adult collectors.
Additional Facts and Other Interesting Details
Nowadays, the Hot Wheels brand of toy cars has more than 10,000 different beautiful and colorful designs. Leading car manufacturers like Chrysler Motors, Ford Motor Co. and General Motors have authorized the release of the miniature models of their vehicles. The same also goes for premier brands such as Toyota, Mazda and Ferrari.
Aside from the normal cars, the Hot Wheels brand also has other interesting product lines such as the Hot Birds airplanes, the R-R-Rumblers motorcycles and the rechargeable Sizzlers electric cars. Aside from these, there is also another highly interesting product line called Hot Line trains.
In 1968, a total 16 beautiful miniature car models were released, all of which featured a working suspension, redline wheels as well as special bearings. More than anything else, these cars became popular for their special paintwork called the Spectraflame. Some of the most notable car models that became part of this highly successful release were the Chevrolet Corvette, the Camaro and the Baraccuda. Additionally, it also included the Mercury Cougar, the Mustang as well as the Firebird.
After the successful release in 1968, it was followed right away with another successful release in 1969. This particular set of miniature cars included the McLaren M6A, the Maserati Mistral as well as the Brabham Repco F1. Other notable car models released during that year also included the Volkswagen Beach Bomb, the Rolls-Royce Silver Shadow and the Mercedes-Benz 280SL.
The 1970s also saw the release of other beautiful and captivating toy car designs like the Nitty Gritty Kitty, the Mongoose Funny Car and the Sky Show Deora. In 1973, the Fat Daddy Sizzlers product line was released, which featured designs like the Highway Robber, the Mercedes-Benz C-11 and the Superfine Turbine among other attractive designs.