The dimensions of a hex key vary. Some of them are only 1.5 mm,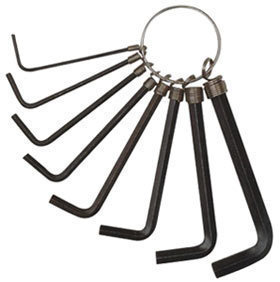 while others are 2 mm. Other common sizes are 2.5 mm, 3 mm, 3.5 mm, 4 mm, 4.5 mm 5 mm and higher. There are also 10 mm hex keys available.
Facts about the Hex Key
Also called the Allen wrench, the hex key is a utility used for fixing motorcycle engines and bicycles. It is called a hex owing to the head which is shaped like a hexagon. Since it came out, the Allen wrench has become widely used in homes.
It is very popular among people who have to do various repair work. Early on it was used to fix garbage disposal units. Back then it was set on a hole in the unit's top and turned. Today the hex key is used more often to repair furniture in the house.
Characteristics
While the dimensions of a hex key differ, its traits are similar. It has six sided recesses and a hexagonal cross section. What makes the utility different is that it can be put in a receptacle to turn it.
This is distinguished from the others that are worked like a bolt or screw. It means the hex key can be used to access fasteners without any projecting heads. Because they are recessed, the bolts and screws are sheltered from damage.
There are other features common in Allen wrenches. They include the light weight and the small size. Unlike other screws, it can access tiny screws or even screws that are buried. Another nice feature of the Allen wrench is the interchangeable ends. The wrench's thickness and length determine its torque.
Other Information
The hex key sizes are set in fractional inch and metric. The ones used for auto and motorcycle repair are 5/32 inch, 3/16 inch, and 1/4 inch. Their metric equivalents are 4 mm, 5 mm, and 6 mm. Other frequently used sizes are 3/32, 7/6, 1/8, 9/64, and 7/32 inch.
Other sizes are used for furniture repair. Most of the time, the wrenches required for the furniture is packaged with the product. This is done to reduce costs.
Since the dimensions of a hex key are small, it is all too easy to be misplaced. The circumference is no bigger than those of a standard pen so one must be careful when using it. Make sure you don't accidentally throw it away.