Dimensions of a Standard Football Goal
American football is definitely one of the most exciting and much anticipated international sports today.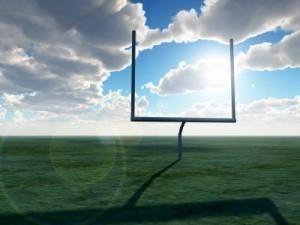 It is not only popular in the United States, but also in Canada. An integral part of this game is a field goal, which is usually made during general play. For those who want to learn more about this sport, it is important to know the different dimensions of a standard football goal.
Standard Football Goal Dimensions
What are the dimensions of a standard football goal? Based on the official rules of the game, players can score a field goal by kicking the ball through a crossbar, which is basically set up 10 feet high from the ground. The crossbar is made up of two upright posts, which are 5.6 meters or 18 feet and 6 inches apart. In case the ball hits the crossbar or an upright, a field goal is still credited to the team who made it. Each successful kick through the football goal comes with a score of 3 points.
Additional Facts and Other Highly Interesting Details
Just like all the other sports out there, American football is a game of strategy. The team who executes better game play and strategies are more likely to win the game. Every field goal made has a score of 3 points. Meanwhile, the basic score for a touchdown is 6 points, which can actually go up to 7 points in case the extra point is made by the offensive team.
This sport is made popular by the professional league called the National Football League. Jason Elam made the longest kick ever recorded in the history of this league for the Atlanta Falcons, which was 63 yards. He shares this prestigious feat with Tom Dempsey, who once played for teams like the Buffalo Bills, the Houston Oilers and the Los Angeles Rams.
To score a field goal, players can use different kicking styles. Some of the most popular strategies are the drop kick, the straight-ahead style and the soccer style. Unlike today, kicking was a highly emphasized aspect during the early years of the game.
The scoring system was devised in 1883, a time when conversions and touchdowns were scored 3 points while every field goal was scored 5 points. The score for a touchdown was increased to 5 points sometime in 1897. During that very same year, the score for every conversion was reduced to a single point. Aside from Elam and Dempsey, other National Football League players were able to score highly impressive goals such as Matt Bryant of the Tampa Bay Buccaneers, Ola Kimrin of the Denver Broncos and Shayne Graham of the Cincinnati Bengals.