If you do not have any idea as to how to begin on a bathroom design project,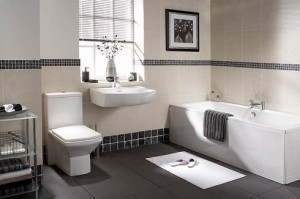 you must try to find a reliable professional to give you some advice. Otherwise, you can make the research on your own and start learning a few basics before delving deeper into the project.
Size Matters
One of the most important considerations when it comes to bathroom design is the size. Size matters whether it is a full bedroom you are designing or the kitchen and yes, even the bathroom. Expert advice will tell you that the standard dimension of a bathroom varies. The size depends on what you are thinking about putting in there.
For a full bathroom, which includes a bathtub, a shower, a sink, and a toilet, you will need a bigger space definitely. The standard dimension of a bathroom of such kind is 5 feet by 8 feet. In case you have a smaller space for a bathroom, you may omit the bathtub and just make do with a corner shower plus a toilet and sink. For that, you will need a 6 feet by 6 feet floor area.
For a half bathroom, which does not have a bathing area, a 3 feet by 6 feet dimension is good enough. In there, you could fit in a powder room plus the standard toilet and sink combo. The smallest dimension of a bathroom is at least 36 inches by 66 inches. This should fit in a toilet.
You may agree with the industry standards or you may also follow another size, depending on what you like and how much space is allowed.
A bathroom should essentially have a toilet. The rest may be included as much as your space allows. If you have enough space, however, it is exciting to have a tub and shower in your bathroom plus the toilet and sink combo, giving you as much comfort as you need to enjoy your personal moments.
Bathroom Design
When it comes to design, you may take a few amazing ideas from home magazines. But most likely, you will have to decide on yourself. After all, you are the one who will be using it so it is adamant that you design it the way you would like to have it. Bathroom designs vary widely. There is also a wide range of bathroom essentials that you can put into your bathroom. Just make sure that when you design or decorate your bathroom, you put function and comfort first and foremost.