Cumulus cloud is known for its clearly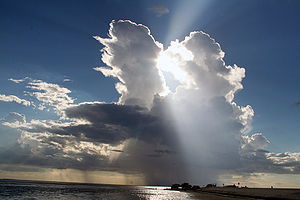 defined edges and noticeable vertical development. The Latin term 'cumulus' is translated literally as 'pile' or 'heap.' In terms of appearance, it can be described as cotton-like and puffy. Although it can appear alone at times, it can also come in clusters or lines. More often than not, it is a precursor to other cloud types like cumulonimbus, particularly when affected by different factors like temperature gradient, moisture and instability. In addition to these basic facts, there are more to learn about this type of cloud such as the size of cumulus cloud.
The Size of Cumulus Cloud
Generally, cumulus clouds possess a base height of 1,000 meters with a width of 1 kilometer. Although their tops may vary, their base is usually below 2,000 meters. In mountainous and arid areas, their base can go beyond 6,000 meters. However, their base is commonly 2,400 meters in temperate areas.
Additional Facts and Other Interesting Details
The presence of cumulus clouds may indicate bad or good weather conditions. Cumulus congestus is most of the time linked with bad weather. This type of cumulus cloud has a top that looks like a cauliflower head, which is indicative of light to heavy rain showers. On the other hand, cumulus humilis may indicate fair weather conditions.
Cumulus clouds belong to a bigger group referred to as cumuliform clouds, which also include cumulonimbus and cumulus congestus clouds. In case you experience intense forms of cumulonimbus and cumulus clouds, there is a possibility for severe weather phenomena like tornadoes, waterspouts and hail.
This particular kind of cloud is formed when warm air rises and meets a comparatively cool air level because the moisture present in the air starts to condense. This is bound to happen due to convection, when a parcel of air is warmer than the air surrounding it. Once the air temperature reaches the dew point, water condenses from the air to create cumulus clouds.
The factors affecting the size of cumulus clouds include the presence of any meteorological inversion and the temperature profile of the atmosphere. It is possible for precipitation to take place when the top of the cloud is exposed to an altitude where the temperature is at freezing level or below. It will fall either as snow or as rain depending on the air temperature at ground level. Because of the presence of lee waves over the clouds, the clouds may form lines at an angle to the wind, which is common in mountainous areas.