Build a Bear Workshop sizes are not always the same, with some 14 inches high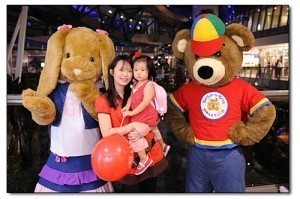 and others 16 inches. These also come in different widths, depth and colors. That there are variations in the size should not be surprising as the company trademark is all about customizability.
How the Process Works
As the name suggests, Build a Bear allows you to make your own bear or other stuffed animals. To start, you go to one of the Build a Bear workshops and choose from one of the stuffed animals available. These range from house pets to farm animals of all kinds.
After choosing the Build a Bear Workshop size and animal type, the store people will fill it with stuffing. Next, add one of the pre-recorded messages to the bear. You can make one too for a small fee.
A barcode will be put inside the bear, and then it will be sealed. Now you can dress and accessorize the bear. There are hundreds of accessories to choose from. The cost will depend on the accessory you choose.
A story book or pet certificate will be given too. These can be customized. The popularity of the product has resulted in the appearance of Build a Bear Workshop video games and special limited edition bears. These are available in different Build a Bear Workshop sizes.
Historical Background
The company was established in 1996. Its founder is Maxine Clark. Its first store was at the Saint Louis Galleria. Nine years later, the store had sold more than 45 million bears. It had also opened stores in the UK, Thailand, Taiwan, Sweden, South Africa, Singapore, Poland and Norway.
Stores have opened in Republic of Ireland, Netherlands, South Korea, France, Germany, Denmark and Australia. Stores have also appeared in baseball stadium in the United States.
Charity Work
The Build a Bear Workshop is also involved with numerous charities. It has donated over a million dollars to the World Wildlife Fund (WWF). Since 1997 it has donated over $11 million dollars to various causes for children.
The company has also helped build over ten playgrounds throughout the US. It is also making numerous stuffed animals for movies and fast food restaurants.
Because one can choose different Build a Bear Workshop sizes and accessories, the product has become very popular throughout the world. It is also renowned for being a good workplace where youths can work and make new friends.