Buffet meals are especially popular when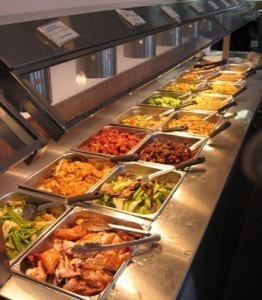 you're having some friends and relatives over. But it's not only the menu that you want to prepare that you have to think about. When it comes to preparing scrumptious meals that your guests will happily partake of, the proper arrangement and appropriate use of buffet sizes for the furniture (that you're thinking of using for the occasion) should be carefully planned before the event.
Quality comes with preparation. Like everyone else, you want that certain occasion to be perfect. So what are your choices when it comes to checking out the buffet sizes for the most appropriate furniture to carry the delicious menu you're planning to feed your guests?
Here are your possible choices:
One: Go for the buffet tables.
Buffet tables are also referred to as sideboards. When you choose to use one, you will learn that it can actually enliven the room and make your visitors perfectly at ease. Since this furniture rarely goes out of style, you can use this anytime you are expecting a handful of guests.
The sizes may vary depending on the manufacturer. Typically, some manufacturers have standard dimensions with these measurements:
For an informal gathering:
For a rectangular-sized buffet table, you have a number of choices available. There are those that are sold with dimensions of around 6' by 30" for a group of six to eight people. For groups of eight to ten, the size is around 8' by 30". For children, the size of around 6 by 24" would be most suitable for six to eight persons.
For a more formal occasion:
You can have a choice of a round table about 48" that sits around six (6) people. Or, if you have eight people, a table measurement of 60" would be all right.
Two: Spruce up the event with buffet cabinets.
A buffet cabinet, which is also called as a sideboard, is a tabletop and a cabinet in one. It gives you ample space for your meals and a clutter-free storage. Various styles are being sold in many stores: There are some that look traditional, others have that antique quality, and some are modern in style.
Sizes vary. There are those having around 22 by 6.5 by 11.5 cm for its length, width, and height. Others are measured in mm with around 1400 by 450 by 900.
Three: Use a kitchen hutch for more storage.
Available in mango wood, sheesham wood, and other materials, the kitchen hutch comes in different sizes. You may find one with around 135 by 45 by 175. Others have 54.50 by 16 by 40. There are also shops selling these in 60" by 20" by 93" or 60" by 20" by 34".
So, take your time when it comes to checking out the buffet sizes for the furniture being offered in shops. Think of how you want the occasion to be celebrated so you can get a better idea on what to choose.