A recent study suggests that around two out of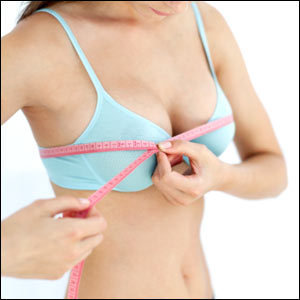 every three women are actually wearing the wrong size bra. This simply means that there are a lot of women out in the world today who just simply live with the discomfort the wrong bra size brings them. You can easily imagine or even relate to the experience of feeling constricted the whole day or plainly feel uncomfortable.
The obvious answer here is proper bra sizing. It relieves women of all the discomfort you can get from a wearing one of the wrong size. It only takes a few minutes to figure out the right bra size for you. You can also consult a bra fitting guide in order to be sure that you're getting the right one.
Getting the Right Sized Bra
Most people are familiar with women's cup sizes. At times women pay more attention to this than the actual size of their bras. The cup size is sometimes called the overbust size and is measured differently from the bra size, which is sometimes called the underbust size. Here's how you make both measurements.
You measure your cup size or overbust around the fullest part of your bust. From this measurement you will deduct your actual underbust size in order to come up with your cup size. After that you will have to check with a cup size chart to figure out which cup size you actually have.
The size of your underbust, which is the actual size of your bra, is determined by measuring your body underneath your bust. If the result of your measurement comes up with an even number then you add an extra 10 cm or four inches. However, if your measurements come up with an odd number then add 12.5 cm or five inches.
So, for example you measure your underbust and get 30 inches, add four inches to that then you have a 34 inch underbust. However, if you measured 31 inches then add five inches and then you have a 36 inch bra size.
Checking the Chart
You will then check the measurements you get against a bra sizing chart. This chart usually shows the corresponding cup sizes as well. Take note that some bra manufacturers use different sizing charts. For instance, a size chart may show that an underbust measurement of 63-67 cm or 25 to 26 inches falls under a size 30 bra. A size 30 bra will then fall under an AA cup size in the US.
Take note that some factors may affect bra sizing when comparing sizes across different manufacturers. Some manufacturers may use international standards when determining bust sizes while others use the local standard in a particular country. You should keep these things in mind when figuring out the actual size of your bra.