The biggest wedding dress is 2,162 meters long. That is equal to 7,134.6 ft. The dress was worn by Lin Rong of China. It took 200 people to unroll the train. Overall, the dress is 1.4 miles (2.2 km) long. 9,999 red silk roses were attached to the wedding dress.
According to the Xinhua news agency, the groom, Zhao Peng, wanted to erase the existing record. The previous longest wedding gown is 1,579 meters long. Rong's dress cost 40,000 Yuan ($6,000) to make.
There are many types of wedding dresses people can choose from. In many cases, the type of wedding will determine the type of dress to be worn. The season, time of day and the bride's personal preference will all play a part in the gown's final look. Usually, dresses are categorized as informal, semi-formal, formal evening and daytime.
There are many other types of course. These are simply meant to give one an idea of the categories used. If you want to make the biggest wedding dress, knowing these facts will come in handy.
Formal Evening Wedding Gowns
Evening weddings are typically formal and the wedding dresses are of course elaborate. Shantung, peau de soie and heavy satins are often seen in evening wedding dresses. Sophisticated trims and lace are also featured. A long train and veil will usually be part of the attire.
Formal Daytime Weddings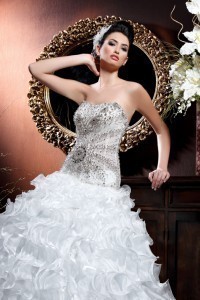 A formal gown is preferred, but the dress is usually lighter. A light dress is definitely preferred in warmer climates. Gloves and short sleeves may be worn. The train is usually chapel-length about 1 1/2 m (4 feet). This is from the dress hem. The veil can be fingertip or floor length.
Semi-Formal Wedding Dresses
Trains are optional. If one is used, a length of 1 to 2 feet (half a meter) is often used. Sleeves may be short or long. The waltz length train is from the hem dress. As a rule, the bride's veil is shoulder to fingertip.
These dresses usually resemble cocktail attire, these are usually hemmed from the knee down to mid-calf. Lace trim or heading may be used. Beaded chiffon, shantung, satin and fabric may be used. Veils are usually not worn with informal dresses. Flowers or other hair accessories are worn instead.
As the facts show, the title of the biggest wedding dress can change. Because some people enjoy getting into the record books, it is likely someone will attempt to top Lin Rong's wedding dress.