Biggest Nuclear Submarine
The biggest nuclear submarine in the world belongs to the Project 941 or Akula class ballistic submarines. The NATO reporting name is Typhoon. Each Typhoon class submarine has a 33,000 ton maximum displacement.
General Characteristics
Each Typhoon submarine has a displacement of 23,200 24,500 t (22,830–24,110 long tons) surfaced. The beam is 23 m (75 ft 6 in) and the overall length is 175 m (574 ft 2 in).
The draught is 12 m (39 ft 4 in).The submarine has a maximum speed of 27 knots (50 km/h; 31 mph) when submerged. When at the surface, the top speed is 22.22 knots (41.15 km/h; 25.57 mph).
The submarine has a complement of 163. It has been tested down to a depth of 400 m (1,300 ft). Each Typhoon class can last 180 days underwater. Each submarine is equipped with numerous weapons.
The armaments include 1 × 9K38 Igla SAM, RPK-7 Vodopad AShMs, Type 65K torpedoes and RPK-2 Viyuga cruise missiles. Some of the submarines have Type 53 torpedoes and RSM-52 SLBMs (submarine launched ballistic missiles). The submarines in the class include the TK-210, TK-20, TK-17, TK-13, TK-208 and TK-202.
Weapons and Armament Information
Although the Typhoon is the biggest nuclear submarine in the world, the vessel moves in a quiet manner. The submarine is also easier to maneuver than other submarines.
Apart from the regular armament, each Typhoon has half a dozen torpedo tubes. Four of them are capable of handling Type 53 torpedoes or RPK-2 (SS-N-15) missiles. The other two are made for Type 65 torpedoes, mines or RPK-7 (SS-N-16) missiles.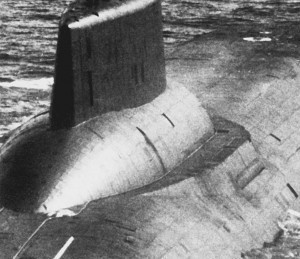 Each Typhoon is fitted with 20 R-39 (NATO: SS-N-20) ballistic missiles. Each one can be fitted with ten nuclear warheads.
Design
These submarines are built with numerous pressure hulls. These reduce the design complexity. At the same time, it makes the Typhoon wider compared to a regular submarine. In the event of a breached hull, the crew at the other hulls will not be affected.
The Typhoon class submarines were first used by the USSR around the 1980s. Their purpose was to launch SLBMs below the Arctic ice. The typhoon has the ability to fire missiles when docked.
The biggest nuclear submarine in the world is still active. Three of them have been scrapped. A couple of them have been preserved. The Russian Navy has announced that the class will still be used until 2019. However, some are slated to be replaced by the Borei submarines.