One of the biggest diamond mines in the world today is the Orapa diamond mine. The entire mine spans an area over 1 square kilometer. At ground level, the total area is 1.18 sq km.
General Information
The mine's exact location is 21.283333 degrees S 25.366666 degrees E with coordinates of 21.283333 degrees S 25.366666 degrees E. The complex can be found in Botswana's Boteti Sub-District.
More specifically, it is in the town of Orapa. The mine is 150 miles (240 km) to the west of Francistown city. The word Orapa is translated as "a resting place for lions".
Ownership
Not only is it one of the biggest diamond mines, it is also partly owned by De Beers, one of the most well known companies in the business. The other half is owned by the Botswana government. Together the two are known as Debswana. The Orapa mine is the longest working mine run by the company. It commenced operations in 1971.
Structure and Operation
The Orapa is an open pit. It is set between kimnerlite pipes. The pipes join up close to the surface. The mine runs seven days a week. On the average, the operation generates over 19 million tons annually of ore.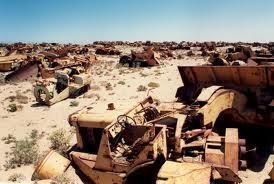 It also produces more than 39 million tons of waste rock every year. In its 2003 operations, the mine was able to gather more than 3,200 kg (16.3 million carats) of diamond. Statistics show the removable ore is 0.87 carats (174 mg) for every ton.
In the late 1990s, the Orapa mine was expanded and operations increased. It would lead to capacity doubling the previous one. The plant has its own processing plant. This plant also does ore processing on the Letlhakane and Damtshaa mines.
Features
The Orapa and Letlhakane mines have more than 3,000 employees. It also has a hospital with 100 beds. There are also primary schools for the children of the employees. There is also a game park for the employees' children.
The Orapa mine has the ISO 14001 certificate. This ensures it complies with environmental safety standards. The company also puts emphasis on waste management and conversation of water. De Beers is the largest diamond mine company on the planet. 85% of the world's diamonds are sold by the company.
While the Orapa is one of the biggest diamond mines in the world, there are many other mining firms around. The growing demand for diamonds has resulted in the appearance of more mining companies.