Strictly speaking, the bench press refers to a type of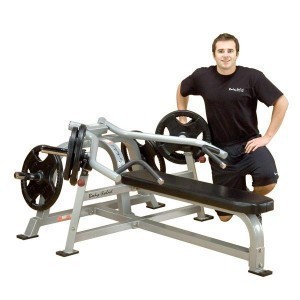 powerlift. In general usage, the term is also used to refer to the bench where people can perform various workout routines.
Bench Press Size: Best Fitness BFOB10 Olympic Bench
The Best Fitness BFOB10 Olympic bench measures 41 x 45 x 68 inches (W x H x D). The bench can be adjusted, be it decline, flat or incline. The uprights can be adjusted so individuals with varying heights can use them.
Other features include a folding frame, back pad and foam rollers. The compact size of the Best Fitness BFOB10 makes it ideal for people with limited space. The bench can be used to conduct leg curls, leg extensions, incline presses and bench presses.
The bench can also be used for cardiovascular workouts and defining the legs and arms. The ergonomically designed bench ensures you don't get injured when working out.
Bench Press Size: Phoenix 99226 Power Pro Olympic Bench
The Phoenix 99226 Power Pro Olympic bench measures 88 x 83 x 60 inches (W x H x D). The bench has flat, decline and incline positions. To ensure stability, the uprights are 42 inches distant on the inside.
The bench also has arm curl attachments and a lat tower. The included leg station also has its own curl bar. This allows you to do various kinds of workouts. The Phoenix 99226 also has 3 inch steel uprights for added support.
The limits are 400 lbs for the uprights, 300 lbs for the bench and 150 lbs for the lat tower and leg lift. Other features include a squat rack and spring clips.
Bench Press Size: Body Champ Mid-Width Weight Bench
The Body Champ bench is 38 inches wide and fitted with a modern arc frame. The bench also has 2-1/2" adjustable uprights. Other features include the safety bar locks and a lat tower.
The unit also has an arm curl pad, adjustable uprights and leg developer. The leg developer has form rollers that can fit different users. The backrest is thick and can be adjusted precisely. Its design makes it very comfortable to use. The lat bar is for standard weighs, but the arm curl is also for Olympic and standards.
Bench Press Size: Body-Solid LVBP
The Body-Solid LVBP measures 67 x 55 x 51 inches and weighs 171 lbs. The bench has 2" x 3" 11 gauge steel to ensure its reliability. There are also multigrip ergonomic hand grips and an electrostatically applied powder finish. Other features include an independent unilateral arm. This feature allows for uniform muscle toning.
Advanced biomechanics is also present with the converging press arm movements. The press arms can be modified to accommodate different users. It also has weight plate holders. The bench press can be used by athletes, people at home, in fitness centers and by students.
There are many types of bench presses and they are designed for different tasks. Before you use one, you should read the product descriptions to see what it is capable of.