There is no difference between dressing up an adult bedroom as you do with a toddler's bedroom. You need to pour in the same conscious effort to make allowances for the brand of comfort your child may require while ensuring that he/she also gets a designer style that he/she would love coming home to for a restful sleep.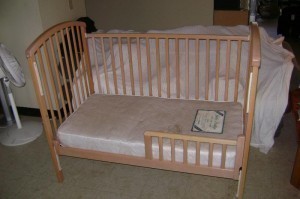 Creating an ideal bedroom for your child is significant because you want to make him/her find a personal sanctuary so he/she does not keep on knocking onto your door. Also, it is a great preparation to make your child independent, sleeping in his/her own bed alone.
When shopping for a toddler's bed, there are a couple of things to take note of, especially the size.
A Toddler's Nest
It is important to make a toddler's bedroom as inviting and as homey as possible. Remember that you are introducing a new nest that is totally different from the crib, which is full of support features. With a single bed, he/she gets an air of independence, of slowly coming out into the world of, well, toddlers!
While you are in the process of deciding what bedroom style will fit your li'l one's personality, it is also important that you start shopping for the right bed size. The bed is the most important facet of a bedroom. Choosing it right can make or break the comfort level and style of your child's bedroom.
The UK standard bed sizes had made an allowance for a toddler bed. In many other countries, toddlers are gotten straight from the crib and onto a twin size bed. Some, however, would like to take a step behind and opt for a toddler bed, which fits 18 to 36-month old children in style.
The toddler bed size is 70 centimeters in width and 140 centimeters in length. It is but the proper size to make enough elbow room for toddlers to feel comfortable in their sleep minus the support features of a crib.
What's more, toddler' bed are usually styled incredibly, to suit the fancy taste of the tots. They are available in different designs that seek to feed the fantasies of children, as well, as their doting parents. There are princess beds, racecar beds, castle beds, and boating beds. There is actually no limit as to the kind of designs that you can find in the market. That makes shopping a truly wonderful chore. You will surely enjoy shopping for your toddler's nest.