Designing a bedroom can be taxing but is definitely an enjoyable task. The bedroom is most people's favorite part of the house. It is an individual sanctuary. It is where a person can relax and balance out all the pressures of day work.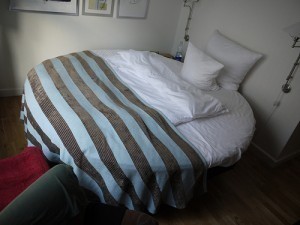 Sleep experts said that getting a good quality of sleep is significant for an individual to live a quality life. That's why, when putting up a bedroom, much consideration must be given on choosing a bed.
Different Beds for Different People
There are a wide variety of beds available in the market. They come in different styles, sizes, and yes, shapes. In this modern world, nothing is ever impossible. That is the same when it comes to beds. There is no limit as to the kind of bed you can get. You would be able to find one that meets your fancy. If none that is available meets your comfort requirement and sense of style, you can easily have one custom-made.
We are all familiar with the square or rectangle beds. But have you seen a round bed? Yes, they have already populated the market. They are cute, very playful, and quite as comfortable as their opposites.
The bed sizes for round beds also vary, as much as the other ones also offer extensive choices. The sizes are basically similar to the ones that you can find in the standard bed size chart. That's because round beds usually use the same bed frame. The only difference is in the mattress. If you are getting a King, you get the same size US standard of 76 inches in width and 80 inches in length. The round mattress will be made to fit that frame.
The Round Bed Flair
The round bed is slowly gaining momentum in the worldwide market. That's because it adds certain flair to any bedroom. It has a unique sense of romance that a lot of people are welcome to employ in their own personal haven.
The first thing to consider for getting a round bed is the amount of space available in your room. Unlike the rectangle King, a round King would require a bigger space. On the average, a round bed has a 7-foot diameter of a mattress. Aside from that measurement, you want some clearing from all sides. That makes it practically impossible to fit in a round bed into a small size bedroom.
Another thing to take note of is you generally should be prepared to spend more not just for the bed as they are quite a bit expensive than the regular one but also for the beddings. Traditional beddings would not work well in your round bed. You have to get the same custom shape to fit right.