The basement is the lowest story in a house or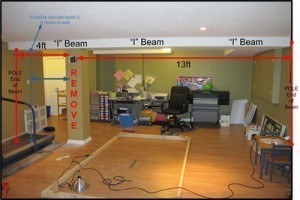 building. The place is usually employed as a utility room where the water heater, furnace, and air conditioning system are located. Electrical distribution systems and cable TV distribution points are also set there.
Basement Dimensions
Basement sizes vary depending on whether it is full or not. A full basement means it will occupy the same space as the house. For example, a 1,600 sq ft with a full basement will also have a 1,600 sq ft basement.
Other basements are 1,100 sq ft. There are also basements measuring 852 sq ft. A 652 sq ft basement is considered small. But it is sufficient for two people. Besides the size, the way the space is used will matter a lot.
Many homes don't have full basements, and often times it is not needed. A 1,680 sq ft house can have 850 sq ft basement dimensions. With this space, one can set up a storage area, a bed, and TV area. The basement can also be used as a playroom.
Utilization of Basement Space
Having a large basement doesn't mean one has to use all the space. Part of it can be kept empty so it can be used as a future storage room. Assume you have an 800 sq ft basement. 400 sq ft of it can be used as a work area.
The other half can be used to store things. Or you can put stuff like the boiler and oil tank there. If the basement dimensions are sufficient, it can be used to store the water softener and well pump.
The basement can also be used as a storm shelter. If that is what it will be used for, make sure there is enough space for everyone in the household. The walls have to be concrete to withstand tornadoes and storms.
Other Ways to Employ the Basement
The basement doesn't have to be a dingy place. It can be used as an extension of the family room. A 1,950 sq ft basement can have a bedroom, a workout area, a media room and a kitchen. A basement of this size can include a workshop area and a storage room. Properly equipped, it can be turned into a guest room as well.
People who have a 1,200+ basement space can divide the space. For example, the parts can be used for a dining room, a small living room, a couple of small bath and a galley kitchen. These large basements will have room for a couple of bedrooms as well.
Tips and Warnings
In some parts of the US (like southern California), the basement is not used often because it might collapse when an earthquake hits. If you will be creating a basement in an earthquake prone area, check the local building code first.
The basement dimensions determine what you can do with the area. No matter what the size, don't neglect the area; properly designed it can be used as living space and much more.