Apartment Size Appliances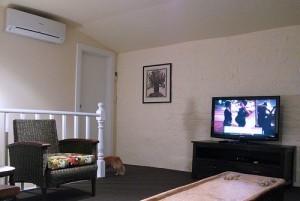 Apartments can be arranged snugly with the right furnishings that fit in size and style. They can appear more chic and stylish, even more pricey and lavish than they really are, with the right choice of apartment-size appliances.
There are trendy appliances designed for small or medium size dwelling. They are small enough to fit narrow door openings and limited spaces. And yet, these small appliances are designed to look elegant enough to make even an undersized dwelling very presentable. They are calculated specifically to be small apartment-size appliances.
For the Living Area
For a limited living room area, a simple sound system with the latest hi-tech features can be had in a small cassette player or a mini component system. There are also flat screens that can be hanged on walls and compact DVDs easily stashed in small shelves. These are space-saver and apartment-size appliances that make limited living areas function big-time. In fact, a living room can be a multi-functional area. It may serve as reception, family, and recreation room with these small appliances.
For the Kitchen
Compact electric or gas ranges are also available for small kitchens. Measuring from 24 to 26 inches in area, they easily fit into wall corners or inserted as part of the sink work ledge. Mid-size refrigerators 7 to 18 cubic feet can also be inserted into fixed floor-to-ceiling cabinets. Or, try an all-in-one kitchen with a mini cooking range, mini oven, mini fridge, and compact cabinet and shelves. These apartment-size appliances make a small kitchen very functional.
For the Bedrooms
Small TV sets or smaller flat screens can be placed in nooks or over shelves. Instead of stand fans ceiling fans can better save space. And instead of a desktop computer, why not a laptop? Small appliances easily fill in the gap because they have very minimal space requirements, if any. There are even gym equipments that are collapsible and easily slid under the bed or kept in cabinets.
Library
You can have a library without having an actual room for it. A portable desktop or laptop fitted with the latest CD-Rom can do the same service as an actual library—or even better. A hanging cabinet with some book shelves can also be affixed on the wall atop the desktop.
Laundry Area
There are portable clothes washers measuring about 18 inches by 20 inches. They easily fit a small kitchen or backyard corner or a small space in the garage. Or try a combination washer and dyer and other similar small appliances.