Worlds Biggest Swimming Pool
During warm sunny afternoons, one of the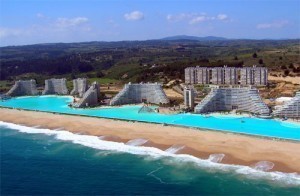 most refreshing and relaxing activities that people can do is to take a nice cool dip in the swimming pool. On the other hand, some pools are designed to provide warmth and relaxation to the human body, such as the case of spa pools and hot tubs. Pools come in different forms, some of the most common of which are exercise pools, infinity pools and hot tubs. In addition to these interesting facts, there are more to know about this enjoyable recreational water facility including the world's biggest swimming pool.
The Biggest Swimming Pool in the World
The biggest swimming pool in the world is the San Alfonso del Mar, which can be found in Algarrobo, Chile. It has a length of 3,280.84 feet or 1,000 meters. The total area covered by the outdoor pool is 19 acres. It is currently the largest in the world, based on the details gathered by the Guinness World Records. Aside from this, it is also considered the deepest pool in the world today, with a depth of 115 feet or 35 meters.
Additional Facts and Other Interesting Details
San Alfonso del Mar uses a special technology invented by Crystal Lagoons. It makes use of water from the Pacific Ocean, which the technology pumps, filters and treats before people can swim in the pool. The place offers guests a unique, fun and memorable experience they will surely remember for the rest of their lives.
Some of the major features of San Alfonso del Mar include fun-filled outdoor water activities, access to an ocean aquarium and affordable apartments for rent. In this place, guests are treated well. The place has a very accommodating staff, comprised of individuals who are ready to answer the various needs of resort guests.
The biggest indoor pool is found within the City of Houston in Texas, which is actually part of the Neutral Buoyancy Lab of the Sonny Carter Training Facility at the United States National Aeronautics and Space Administration Lyndon B. Johnson Space Center. Meanwhile, the biggest indoor wave pool in the North American region is found right inside the West Edmonton Mall within the province of Alberta in Canada.
In the U.S., the biggest pool ever established was the Fleishhacker Pool, which opened in April 1925. To patrol the place, it was necessary for lifeguards to use kayaks. It measured 980 by 150 feet or 300 by 45 meters. However, the place shut down in 1971 because of low patronage.