The world's biggest mall is the Dubai Mall. The total area is over 1,124,000m2. It is found in Dubai in the United Arab Emirates.
It is included in the Burj Khalifa complex. Currently the mall has over 1,200 shops. When it opened in November 2008, it already had over 600 retailers. In terms of gross leasable space, it is ranked number six.
The total area is more than 12 million sq ft. The interior floor area is about 5.9 million square feet (55 ha). The leasable space is 3.77 million square feet (35 ha).
The Dubai Mall has fifteen malls within a mall. The total area covered is over 9 million sq ft (84 ha). There are many attractions in the store. They include the WaterFront Atrium, Oasis Fountain Waterfall, the Galeries Lafayette department store and Fashion Island, with over 70 stores.
There is also the Fashion Catwalk atrium with a total area of 850,000 sq ft (79,000 m2). The world's biggest mall also has the world's largest Gold Souk with over 200 retailers.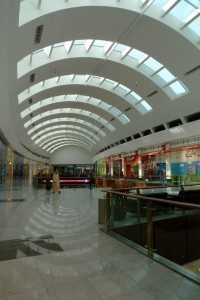 Other features in the Dubai Mal include a 22-screen Cineplex, the biggest in the country; the KidZania is an edu-tainment center with a total area of 80,000 sq ft (7,400 m2). There is also the SEGA Republic theme park with an area of over 76,000 sq ft (7,100 m2).
The Grove is an outdoor / indoor streetscape. It has more than 200 jewelry stores and more than 160 food and drink options. There is an organic food mart and a supermarket. One of the shops there is Hamley's, a 32,000-square foot (3,000 m2) toy store.
The Dubai Mall also boasts of over 120 restaurants and cafes, over 20 cinema screens and a 250 room hotel. Currently, the mall has three car parks with over 14,000 parking spaces. The park has a car locator built in.
The mall has the planet's biggest acrylic panel, the Aquarium. It measures 32.88 m wide × 8.3 m high × 750 mm thick. It weighs 245 tons. The biggest sweet shop is also in the mall. Called Candylicious, it has a total area of more than 10,000 sq ft (equal to 930 m2).
The world's biggest mall had over 5 million visitors in March 2010. During its first year, the mall garnered over 17 million visitors. It has been estimated than over 750,000 people visit the mall weekly.