The title of biggest hotel in the world is much contested with a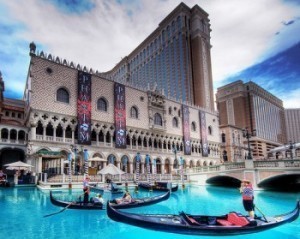 lot of hotels competing for the top spot. The easiest metric to use when figuring out the world's biggest hotel is to compare every hotel by the number of rooms available. It will be apparent that a hotel can qualify for this title only if it has at least 1,000 rooms.
World's Biggest Hotel Ranking
Today, the largest hotel complex in the world by number of available rooms is the Venetian/Palazzo Megacenter located in Las Vegas. It has a whopping 8,108 total rooms available. It is beautifully situated on the eastern side of the Las Vegas Strip. And like other hotels on the strip, it is both a luxury hotel and a casino. It is combined with both the Palazzo Hotel and the Sands Expo Convention Center forming the hotel complex. The Venetian holds 4,049 suites while the Palazzo has more than 3,068 available suites.
The second biggest hotel in the world so far is the MGM Grand Las Vegas, which is also located on the strip. This hotel used to be the world's biggest hotel with a 30 floor main building. It took the prestigious title in 1993 during its debut opening. Part of the hotel complex is the world famous MGM Grand Garden Arena, which has a seating capacity of more than 17,000 people.
The First World Hotel was once the biggest hotel in the world by number of available rooms. This hotel has 6,118 rooms available. It is located in the Genting Highlands in Malaysia. It has a couple of residential towers and has a total height of 33 floors. It has a plaza amply named the First World Plaza.
The hotel houses arcades, food outlets, and shopping malls. Guinness World Records awarded the hotel as the largest hotel in the world in 2007. Today it ranks as the world's third biggest hotel.
Not trailing behind the pack is the Wynn/Encore Las Vegas Complex, which ranks fourth biggest hotel in the world and has 4,750 rooms. On the number five position is the world famous Mandalay Bay Complex, which includes the 43-story The Hotel.
Watch the Strip
It is interesting to note that out of the top ten largest hotels in the world eight of them are located on the Las Vegas Strip. This gives you an idea how big the neighborhood is. The other two contending hotels are located in either Malaysia or Thailand. It is interesting that contending Asian based hotels have taken the top spot at times. However, hotels on the strip are competitive and will take measures to get back on the top spot.