The biggest Barbie dolls in the world are the Supersize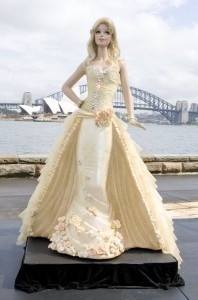 Barbie dolls. The first Supersize Barbie came out in 1977 and is 18 inches high. There are other Barbie dolls that have come out almost as big as the Supersize. On the average however, Barbie dolls are 11.5 inches tall.
Supersize Barbie
The Supersize Barbie doll that came out in 1977 has blonde hair. She was fitted with a white and silver sweetheart neckline halter bodysuit. She also has a matching bag and skirt. Other accessories include a ring, a choker, and rhinestone earrings.
She came with white ankle strap shoes. In 1978, one of the biggest Barbie dolls, the Supersize Barbie was released as a bridal doll. In 1979, Supersize Barbie came out as Super Hair Barbie.
Other Facts about the Barbie Doll Sizes
The 11.5 inch size for Barbie has been in use since the doll was invented. Ken is an inch taller at 12 inches. Skipper, Barbie's sister, is 10 inches tall. Some of her other friends like Casey and Francie are 10.5 inches tall.
Material Composition
The standard Barbie doll is made from some type of vinyl. Some collector Barbie dolls are made from porcelain. The Silkstone Barbie dolls are constructed from stiffer vinyl. The texture is somewhat like porcelain. From the biggest Barbie doll to the smallest, the hair is made from rooted synthetic fiber.
Historical Background
Ruth Handler was the inventor of the Barbie doll. She got the idea after seeing her daughter playing with paper dolls. Handler decided that her daughter and other children would prefer playing with three dimensional dolls instead.
The first Barbie doll was produced by Mattel on March 9, 1959. Since its inception, Barbie has always been produced by Mattel. However, the accessories, clothing, toys, books etc. are produced by other companies.
Other Information
Barbie doll collectors divide their collection into periods. The vintage Barbie dolls date from 1959-72. Barbie dolls from 1972 onwards are known as the modern Barbie dolls. Barbie collecting started in earnest in 1986.
Since that time, numerous types of Barbie dolls have emerged, including Happy Holidays Barbie, Harley Davidson Barbie and more. There are over 100,000 Barbie collectors in the world today. 90% of collectors are women. The average age is 40.
The biggest Barbie dolls are not just the items that collectors buy. They also purchase accessories and vintage Barbie dolls. The vintage dolls are the most expensive to collect.