Hawaii is a state in the United States and is considered as one of the newer states in the country having been included as one of the fifty states only in 1959. It is also the sole state in the country that is comprised mainly of different islands.
Owing to its location which is middle of the Pacific, major influences of this island are from the continents of North America and Asia.
Square Miles of Hawaii
Ranking No. 43 in total area among all the states in the US, Hawaii's square miles is pegged at 10,931 or about 28,311 in square kilometers.
Its length is approximately one thousand and five hundred twenty-two square miles or roughly around two thousand and four hundred fifty square kilometers.
Its waters comprise 41.2% of the state's total area.
Based on recent surveys, Hawaii has a total population of more than one million – about 1,360,301 to be exact as of the year 2010. It increased by less than one hundred and fifty thousand from its past survey where approximately 1,211,537 inhabitants were listed back in 2000.
With this survey, Hawaii ranks as No. 40 in the most populous states in the US; with a density of 188.6 per square mile or 72.83 per square kilometer.
Climate and Weather
Being a tropical island, most of Hawaii enjoys two seasons per year: dry and wet. Dry season begins in May and ends in October while the wet season is from October and can last up to April.
There is snowfall in Hawaii, although this is not very common with tropical islands. Mauna Kea and Mauna Loa experiences snow during the cold season.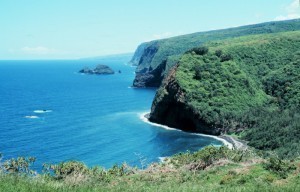 During the dry season, climates normally are around 31 degrees Celsius in the daytime and 24 degrees Celsius at night. For the wet or cold season, temperatures are typically around 28 degrees Celsius during the day and 18 degrees Celsius at night.
Things to See and Do
Hawaii's beautiful landscape, exotic beaches, warm and friendly climate and picturesque mountains make it a very popular destination for tourists throughout the year.
Water sports especially surfing are very popular in the islands of Hawaii and as a matter of fact, several surfing competitions are held here during certain times of the year where both local and tourists are eager to participate in.
Other than its beautiful beaches, you may also explore its many historical landmarks starting with the downtown district of Honolulu in Oahu.
Here, you can see the Iolani Palace which was constructed in 1881. This palace is a symbol of Hawaii's monarchial history. These landmarks will take you back in history as you discover their beginnings and their part in Hawaii's rich and colorful history.