The smallest jet aircraft is the Bede BD-5.Micro. The length is 12 ft to 13.5 ft w/stretch kits (3.88 m to 4.11 m). It is only 5 ft 2 in (1.6 m) high. The plane is operated by a single pilot.
Specifications
The wingspan is 14 ft to 21 ft 6 in. The weight when empty is 167 kg and up. When fully loaded, the weight is 407 lb to 809 lb. The maximum takeoff weight is 1,100 lb (530 kg). It uses different engines, from Turbo Honda to Rotax.
Performance
The BD-5 has a maximum speed of over 200 mph. This is equal to 320 km/h. The range is 720+ miles (1,152+ km). It has a service ceiling of 12,000 ft (3,700 m). The rate of climb is 1,900 ft/min (579 m/min).
Overview
The BD-5 Micro is a single seat aircraft. It was developed by US aircraft designer Jim Bede during the 1960s. The aircraft was sold in kits during the 1970s. The BD-5 comes with a small fuselage. It contains the pilot in a semi-reclined position below a canopy.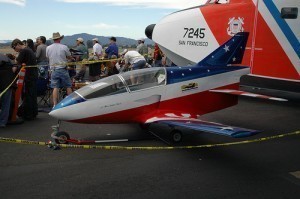 The engine is set in a compartment in the center of the fuselage. The propeller is placed to the back of the cockpit. The jet engine used in the BD-5J variant is also at the cockpit's rear. The smallest jet aircraft in the world is also the lightest. It weighs only 358.8 lb (162.7 kg.
The BD-5J
The BD-5J is a variant of the BD-5. Instead of a propeller, it uses a jet engine. The aircraft has a top speed of 300 mph (480 km/h). The aircraft used the Sermel TRS-18-046 turbojet (now Microturbo).
This generated a thrust of 225 lbs. The aircraft has a wingspan of 17 ft. The aircraft and its variants have become fixtures in air shows. One of them was also featured in the 007 film Octopussy.
The BD-5J also now functions in the field of national security. The BD-5J has been certified by the US Defense Department as a cruise missile surrogate.
The aircraft specs also make it very useful when used in training sessions. The BD-5J has also been involved in numerous accidents. Majority of them have been due to incorrect installation of components.
The BD-5, through its variant the B-5J, has kept the title of the smallest jet aircraft for over 25 years. The lightest one which weighs 358 lbs has not yet been flown due to different mechanical problems.