The following data should be used for reference only. As the following will make clear,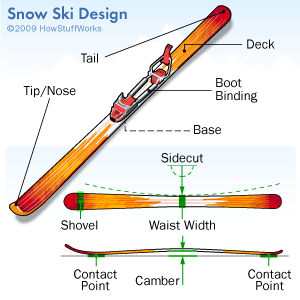 there are other pieces of information you must understand when choosing a pair of skis.
Ski Sizing Chart Guide
If you stand 4'4" or 132 cm, the ski length should be 115-130 cm. For those who are 4'6" (137 cm), the ski length is ideally 125-140. People who are 4'8" / 142 cm can go for 130-145 cm skis.
Skis measuring 135-150 cm are for those 4'10" / 147 cm tall. If you are 5′ / 152 cm, the ski should be 135-155 cm. People who are 5'2" / 158 cm usually use 145-165 cm skis. The 150-170 cm skis are for people 5'4" / 163 cm tall. On the other hand, people 5'6" / 168 cm may opt for 155-175 cm skis.
Ski Sizing Chart Guide II
People who stand 5'8" or 173 cm will do well with 160-180 cm skis. The 165-185 cm skis are for those who stand 5'10" / 178 cm. Those who stand six feet tall / 183 cm can go for 170-190 skis. Those who are 6'2" / 188 cm will need 175-195 cm skis. People who are 6'4" / 193 cm will do fine with 180-200 cm skis.
Considerations for Buyers
The basic rule is the shorter the ski is, the easier it will be to turn. However, the longer skis offer greater stability. You also have to assess what type of terrain you're going to use (i.e., all mountain, park pipe, carving and powder).
Along with ski sizing, you must also choose the pair that matches your skill level. There are skis for beginners, intermediate and advanced. Over time, your skills will improve and you can choose more advanced skis. If you ski about 30 days a year, you should have no problems handling the advanced types.
Long and Short Skis
Since manufacturers use different systems for measurement, it can be difficult to find the right fit. Most skiers pick those who dimensions land around the chin or the top of the head. However, some people like taller skis.
If you are unsure of ski sizing, the people at the shop should be able to find the correct fit for you. To get help from qualified people, you must only buy from reputable stores.
There are also those who prefer short skis (that is, near the chin). You may want this if you are a new skier. This is also recommended if your weight is lower than the average for your height. You'll also want this if you like to make rapid turns and twists.
Long skis will be necessary if you are a fast skier. Tall skis will also benefit those whose weight is above the average for their height. You'll also need tall skis if you'll be going off the trail.
A ski sizing chart guide will assist you in getting skis that are a good fit. But you must also account for the other factors mentioned earlier to truly enjoy the experience.