Also called a passkey, a skeleton key refers to a bit-type or level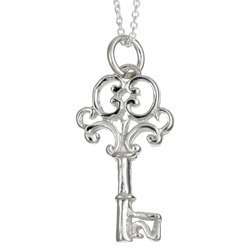 lock-style of key. Loosely, this term can also be used when referring to a key or any kind of object that can be used to open any kind of lock. It is designed to match warded locks, each of which of course has a unique configuration. In addition to these interesting facts, it is also helpful to know the different skeleton key sizes.
The Sizes of Skeleton Keys
Known for their increasingly attractive designs, skeleton keys are available in different sizes and shapes. For instance, a standard set of cast-iron jailer's keys comes with three varying lengths, namely the 12.7-centimeter, the 10.16-centimeter as well as the 7.62-centimeter keys. Meanwhile, the medium-sized key is suitable for keepsake boxes. It only measures 4.72 centimeters long.
A standard die cast barrel and bit key made from brass is another interesting design for skeleton keys. Its barrel has a length of 3.81 centimeters. Overall, the length of this key is 6.35 centimeters. Suitable for desks, a roll-top lock key features a 3.51-centimeter long barrel, the diameter of which is .48 centimeters. The overall length of the key is 6.35 centimeters.
A skeleton key made up of malleable iron is also a good one. Suitable for the L-4 wardrobe lock, this key is 6.68 centimeters long and 1.91 centimeters wide. Another nice-looking key is made from solid brass, which also has a fancy design. The length of its barrel is 3.81 centimeters, while the overall length of the key is 7.62 centimeters.
Additional Facts and Other Interesting Details
Because of their unique skeleton-like designs, level lock keys are often referred to as skeleton keys. The hole of the lock where the key is to be inserted has a circular-shaped top. In the United Kingdom, this kind of key is called a master key. It is commonly used to open a lock with a set of wards and three or five levers. The lock will open once the bit of the right key is exposed to these elements. Typically, the levers of a master key system have the same height. However, every door will feature different wards.
In the United States, skeleton keys were common during the early years of Colonial America, specifically in door locks and cabinetry. It remained widely used in the U.S. until the 1940s. However, it was widely replaced by the pin tumbler lock when the World War II ended.
Brass is the primary material used to create skeleton keys and locks. Aside from this, pewter can also be used. Nowadays, the use of this kind of key is limited to fine cabinetry. The reason for this is that they are somewhat insecure, considering the fact that they have no double-acting levers.