Sizes of Exercise Benches
An exercise bench is an exercise equipment used in weight training. It may come in a simple flat bench style or it may also have other features that provide support for the legs as well as give various angular positions.
Sizes of exercise benches are therefore determined by what type or style you are going to get. Basically however, sizes of exercise benches are pretty much similar to a regular bench with the exception of some additional features which could increase the dimensions by just a few inches or centimeters.
Sizes of Exercise Benches
There are various sizes of exercise benches and as previously mentioned; these are pretty much determined by how simple or elaborate you want your table to be. Basically, there is a simple flat bench, an adjustable bench, curved or slanted bench and a full weight lifting bench.
Flat Benches
Sizes of flat benches are basically around 43.2 inches in width by 14.2 inches in height by 18.2 inches in depth. This is your standard flat bench where you can do bench press as well as tricep extensions.
If you add ankle weights, you can also do your leg extension exercises on this type of bench.
You can also find sizes in dimensions of 43.25 inches in width by 18.12 inches in height by 15 inches in depth.
Adjustable Bench
An adjustable bench provides you with more flexibility when it comes to weight training and exercises. You can actually use this type of bench for various exercises, giving you flat, incline and decline positions.
Usually, this type of bench gives you a 90-degree and a 45-degree angle aside from the flat and decline positions. An adjustable bench generally measures around 56 inches in length by 26 inches in width by 20 inches in height.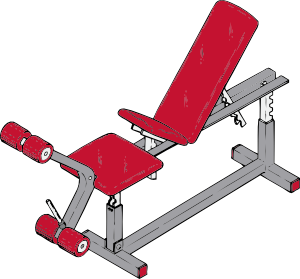 This is approximately 142.25 centimeters long by 66 centimeters wide by 51 centimeters high.
Curved Bench
A curved bench basically provides you with more support as you do your sit-up exercises as well as crunches and dumbbell presses. Sizes of exercise benches for this type are basically around 48.85 inches in width by 28.15 inches in height by 18.75 inches in depth.
This generally weighs about twenty-nine and one-fourth pounds.
Slanting Bench
The slanting bench is also ideal for abdominal exercises such as sit-ups as well as workouts for the upper body. The size of this one is not far from the curved bench.
This one measures around 53.5 inches in width by 28 inches in height by 17.3 inches in depth.
Full Wight Lifting Bench
A full weight lifting bench comes with a support for six-foot and seven-foot bars and is sturdy enough to support various sizes of free weights.
This provides you with the right support for both upper and lower body exercises. Dimensions for this are basically around 70.8 inches in width by 51.8 inches in height by 59.6 inches in depth.
Important Reminder
Before you begin any of your weight training exercises, it is recommended that you seek the advice of your physician especially if you have a medical condition.
It is also advisable that you consult a professional weight trainer to get the right level of weight training to avoid injuries.