Synonymous with strainers, the sieve is an indispensible utensil in many kitchens around the world.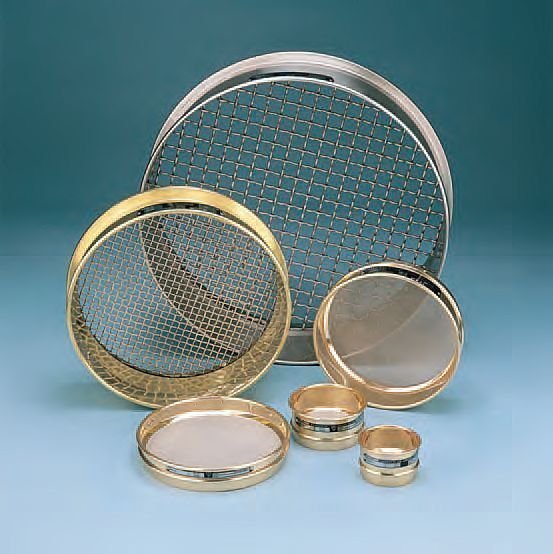 The tool is used mainly for removing liquid from food, but as the following will show, it has other uses.
Sieve Dimensions: Oxo Good Grips 6-Inch Double Rod Strainer
The Oxo Good Grips double rod strainer measures 13.6 x 6.1 x 2.4 inches and weighs 8 ounces. It comes with a fine mesh useful for draining liquid from various types of food, including pasta, vegetables and fruit.
The Oxo Good Grips strainer comes with a wide brim (stainless steel) to make it easier for the sieve to rest on almost any type of bowl. The double rod makes it more robust. There is a hanging loop so it can be stored easily.
The sieve has nonslip handles and it is ergonomically constructed. The handles are water resistant and can be utilized dry or wet. The sieve can be cleaned in a dishwasher.
Sieve Dimensions: CIA Masters Collection
The CIA Masters Collection measures 7.5 x 1.5 x 3.5 inches. The strainer can be used to remove liquids including sauces and gravies. It can also be used to rinse off vegetables.
The CIA Masters Collection can also dust off cocoa, sugar and similar substances on baked food. The sieve can strain out even the tiniest of particles. It comes with a long handle for comfortable handling.
The handle will hook over pans so it remains stable. It is made of 18/10 stainless steel. The sieve is also a fit for various bowls and containers.
Sieve Dimensions: MIU France 3601 Pour Off
The MIU France 3601 Pour Off sieve measures 13.5 x 0.5 x 5 inches and weighs 8 ounces. The extra length allows it to fit over large containers. It is safe to clean in a dishwasher and is constructed from 18/10 stainless steel.
The 3601 Pour Off is made for draining various types of liquids. The crescent shape makes it a nice fit with assorted bowls. To use, just place the sieve over the rim of the bowl, tilt and then pour. The handles ensure the hands are kept away from a hot pan. The sieve is made in Italy.
Sieve Dimensions: Joshua Roth Limited Sieve
The Joshua Roth Limited Sieve is a four piece set measuring 12 x 12 x 3.2 inches. The sieve is used for gardening, hence its large size. The set comes with three mesh screens. This soil sieve makes it easy to filter out the rocks. Just put the soil in the sieve, shake it and discard the remaining stones.
Although it is designed mainly for bonsai, it can be used in outdoor gardens for various chores. The sieve can also be used for sifting out sand and finding fossils. Because it is made of stainless steel, it can be used in water.
Whether you use it in the garden or kitchen, the sieve dimensions are very important. If you drain a lot of liquids or mix a lot of soil, get one as big as possible.