School Blackboard Dimensions
In order to be visually effective a blackboard should be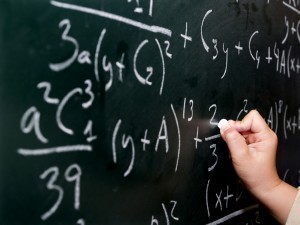 big enough to be seen from any point of a classroom. Therefore, school blackboard dimensions have a lot o do with the size of a classroom. The size of a classroom depends upon the type of pupils who will use it. Below are some guidelines for chalk board measurements for schools.
For Preschool Classrooms
Preschoolers need a lot of space to move about because of their active nature. Thus, they need ample space and spacious enough classrooms. Considering their bags, wide desk and chair dimensions, and movement clearances, each pupil would need a 1.40 by 1 meter area. In a classroom of ten rows with a 1.5 meter aisle and 1 meter lateral passages, an ideal classroom width would be at least 12.50 meters. Hence, school blackboard dimensions for this room would at least be 10 to 12 meters long. It should be 1.5 to 2 feet high from the ground so small kids can reach the chalk box and write on the board. A height of 36 or 48 inches high should be just right for chalk board measurements for schools.
For Elementary and High Schools
Grades 1 to 3 may need school blackboard dimensions similar to what preschools have, but grades 4 and onwards need higher board elevation. Thus, from the ground, chalk boards should be raised 2.5 or 3 feet high. The chalk board measurements for higher grades may remain the same with those used for preschoolers. Just remember the rule of thumb: board width should follow closely the width of the classroom itself.
For Colleges
Classrooms for colleges may vary depending on the activities done in them. For lectures, classroom widths from 14 to 20 meters may be needed, depending on the number of students. Chemistry labs, computer labs, drafting, sewing, or electronics rooms need more space. But be it a small or big room, they all need to be installed with a black or white board. The same rule should apply: school blackboard dimensions should run almost the entire width of the classroom, leaving space only for the swinging door and an area for some furnishing.
Why the Wide Width?
Every student in the classroom should be able to view what's written on the board. To have this effect, the board should afford enough space for big font sizes. Thus, the necessity for wide widths. And the widest width possible in a classroom is the width of the classroom itself.