A juicer is used for extracting juices from lemons, grapes and other fruits. These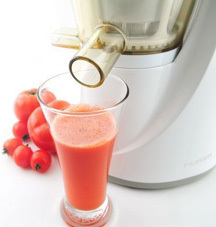 appliances are available in a wide variety of styles and specifications. Here are some examples.
Juicer Dimensions: Black & Decker CJ525 CitrusMate Plus
The Black & Decker CJ525 CitrusMate Plus measures 9.5 x 6.9 x 6.9 inches and weighs 1.6 lbs. The unit has a capacity of 34 ounces (a quart). It is an electric juicer with different sized cones so you can work with different fruits.
The CitrusMate Plus reamer has an auto reverse function so juice can be extracted fully. There is a stirrer included for pressing the pulp from the strainer. Also included is a controller for regulating the amount of pulp getting into the juice.
Storage of the CitrusMate Plus is easy because the cord wraps in a slot near the base. A cover is included to protect the unit from dirt. The juicer should be hand washed.
Juicer Dimensions: Breville BJE510XL Ikon
The Breville BJE510XL Ikon measurements are 16-4/5 x 15-1/2 x 10-1/4 inches. This juice extractor is equipped with the five-speed juicing system for maximum extraction.
For example, the 6500 rpm speed is for leafy greens and fruits. The 12500 rpm speed is more suited for apples and other denser fruits. An electronic chip is included so the cutting disc has more power.
This allows the Breville BJE510XL Ikon to produce an 8 ounce juice glass in five seconds. With its three inch feed tube, processing whole fruits is easy even without peeling or cutting.
Juicer Dimensions: Waring
The Waring juicer measures 14.2 x 12.5 x 10.8 inches. This 400W juice extractor is designed for various vegetables and fruits. The juicer can be used for juicing carrots, apples, pears and other fruits.
The housing is constructed from stainless steel, so there is no need to worry about discoloration or stain. All the major components, from the juice collector, compact strainer, lid and pulp collector are dishwasher safe.
The body can be cleaned easily with a sponge. The Waring has cushioned feet so there is no need to fret about vibrations. This will also keep the countertop scratch-free. The unit is robust enough to be used every day.
Juicer Dimensions: Hamilton Beach 67650
The Hamilton Beach 67650 juicer measures 14-1/2 x 10 x 18 inches. The unit has a simple on/off toggle switch and a three inch feed chute, allowing for quick juicing.
The Hamilton Beach 67650 is designed for extracting vegetables and fruit juice. The unit can handle apples, grapes, pineapples, tomatoes and spinach. It can also work on carrots, melon and many other fruits.
To use, just put the fruit or vegetable in the chute. Press the pusher and the liquid will pour into the cup. The strainer basket is made of stainless steel. A pulp bin is also included.
The juicer dimensions and features of these units may differ, but they all share something in common. They have taken the difficulties out of making natural fruit juices. By using a juicer, you can get natural and sugar free drinks anytime.