Garden hose sizes are determined by the length, diameter and their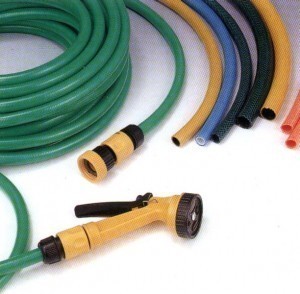 composition. A 1/2 to ¾ inch diameter hose will be sufficient for most home gardening activities. The length varies from 25 ft to 100 ft. The length has an effect on the pressure too: the longer it is, the less pressure.
Garden Hose Types
The most commonly used is vinyl as they're light and simple to handle. Rubber hoses are heavier but they are more durable. If your gardening needs are simple and you're on a budget a vinyl hose will do just fine. Most vinyl hoses are 25 to 75 ft. The average diameter is 5/8 in (or a 50 ft hose that is half an inch in diameter).
There are other garden hose sizes and types. One of the more popular ones is the rubber / vinyl composite. These are typically 2-ply reinforced, with the 50 ft hoses weighing less than 5 lbs. The 100 ft hose will weigh a bit more.
Flexogen and Flat Hoses
Featuring 6-ply construction, this hose comes with inner layers of foam to give it a light weight. The outside layer has a polish so it is invulnerable to abrasion. The burst strength is 500 psi and comes with a tight collar. The diameter ranges from 1/2 to 1 inch. The length varies from 25 ft to 250 ft.
Anyone examining garden hose sizes will come across the flat hose too. The advantage of this hose is it doesn't take up a lot of room and rolls up easily. Common sizes are 25 ft (half an inch diameter) and 50 ft.
Industrial Hose
These hoses are made of all rubber and come with double spiral cord enforcement. They come with machined brass couplings and abrasion proof rubber cover. The hose has a 500 psi burst strength. It can work with water 200 degrees F. These models are available in sizes of 25 ft and upwards.
Other Garden Hose Sizes
The Soak n Spray hose is intended for use in gardens. When activated it releases a fine spray over the surface while dampening the soil below. This hose is 50 ft long. The Boat and Camper hose is intended for use in recreational activities. The hose is FDA approved (can carry drinkable water). It comes in two sizes, 25 to 50 ft. The diameter is ½ inch or 5/8 inch.
The sprinkler hose is intended for those who are tired of moving the hose back and forth to water the garden. The device is equipped with 3 hoses attached together. Set on the garden it will spray along a 10 foot wide area. There are two lengths: 25 and 50 ft.
Tips
If you want more water, get a hose with a large diameter. Sizes to choose from are 1/2", 5/8", 3/4" and 1". Also remember the ply stands for layer. More ply equals more layers and a stronger hose.
One more thing needs to be said about garden hose sizes. A long hose is not always the best solution. You can always get two short ones and combine them if needed.