Forklift dimensions vary considerably, but the following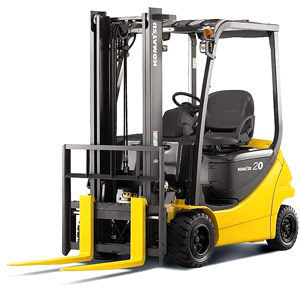 information should help you determine the most pertinent figures. Before you purchase one, it's important to get the facts and figures that matter.
Capacity of Forklifts
The typical starting capacity is 600 kg, with the largest ones able to carry in excess of 52,000 kg (that is 52 tons). However, majority of fork lifts have a rating of no more than 3,000 kg (3 tons). But keep in mind that the load will affect the capacity you require.
The weight capacity is typically based at a 24 inch (600 mm) load center. However, this figure may also vary. What this implies is that at the distance from the middle of the load, the edges must not exceed 600 mm.
Forklift Heights
The forklift height ranges from 10 ft (3 meters) to 36 ft (11 meters). Since the requirements for height are often static, it isn't much of a concern. But it will be necessary to evaluate them especially if you are stacking different materials.
Primary Considerations
Businesses and establishments that require forklifts address several issues before making a purchase. To avoid size problems, the diameter, weight and size of the loads are assessed with the dealer. Another thing that is considered is the future requirement.
Will these forklift dimensions be sufficient for the future? Usually, businesses that have expansion plans get units with capacities that exceed their present needs. This is costly, but it will pay itself off in the future.
Other questions that need to be answered by a prospective buyer are the following. Will the unit be used indoors or outdoors? Will there be space for the forklift to move? There is also the question of how long the machine will be used.
New vs. Used Forklifts
The rule that most people follow is this: if the unit will be used for more than four hours daily, buy a new one. If it will be utilized 1 to 3 hours everyday, a secondhand unit will be sufficient.
The logic behind it is simple. A forklift used more than three hours daily means it is integral for the business. You will need a new model because the used one may break down often due to constant use.
The forklift dimensions, particularly the capacity, have to be looked into intently. By knowing what the requirements are, you'll be able to purchase a unit that satisfies your present and future requirements.