The size of Bibles can vary a great deal, depending on the font used and if it is in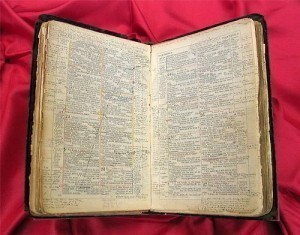 compact, study or pocket format. The most common font size used is 8. In pocket sized Bibles, the font used is size 6. For compact types, the font is 7. The print / study Bibles often use font sizes 9 to 11.
Bible Dimensions: Life Application Study Bible NIV
The Life Application Study Bible measures 9.5 x 6.9 x 1.9 inches. The hardcover edition has 2528 pages. There are 16 Personality Profiles included. The Life Application Study Bible provides information on the inter-testamental period.
There is also a Christian Worker's Resource to help boost ministry effectiveness. There are almost 10,000 Life Application Study tools included. These include Bible figure profiles, cross-references, charts and maps.
There is also an index, concordance, and a dictionary. The Life Application notes are also included. Each book has a timeline, outline as well as presenting the themes in each of the book.
Bible Dimensions: NIV Quest Study Bible
The NIV Quest Study Bible measures 9.2 x 6.5 x 1.8 inches and has 1984 pages. The book includes answers to common Bible questions. There are more than 7,000 of these questions answered, and they focus on frequently read passages and its implications for the reader.
There are over 800 new side column notes featured in this version. There is also an article index, and a subject index that categorizes all the articles included in the book. The verses with Q&A are colored for easy identification. There are also timelines indicating relationships of Biblical events.
Bible Dimensions: TNIV Pocket Bible
The TNIV Pocket Bible measures 6.4 x 4.9 x 1.5 inches and has 1184 pages. The TNIV Pocket Bible is compact enough to fit in a purse. The pagination is the same as the rest of the TNIV text Bibles. It also comes with Duo-Tone binding.
The book is designed for readers who need a portable Bible. The TNIV Pocket Bible is written in today's language, making it easy to read. It only weighs 12 ounces. Even though the book is small, the text is clear to make reading more comfortable.
Bible Dimensions: ESV Study Bible
The ESV Study Bible measures 6 ½" x 9 ¼" and has 2,752 pages. The text is single column, 9 point type. It has Smyth-sewn bindings and employs European Bible paper. There are several notes included for reference and study.
Maps of relevant places during Biblical times are also included. Illustrations and charts are part of the book too. Other useful features are timelines of all vital events. There are over 1 million words for explaining the meanings of verses and passages.
The books have dates, important themes and background information. Outlines of the features are included. There are also articles on ethics and other issues related to the Bible.
It is not just in the Bible dimensions that these books vary; their features and resources also differ. To get the right one, you need to examine the features to see which best applies to your needs.