There are many card scraper sizes, with some measuring 2-7/16" x 5-7/8" x .032" while others are 2-5/16" x 3-7/8" x .042". The dimensions of the tool will depend on how and where the tool will be used. The object is also known as a cabinet scraper.
General Characteristics of the Tool
The device is used for finishing and woodworking. The tool is utilized primarily for taking out small materials. It can also be used in areas if the hand planes cannot be employed. The cabinet scrapers are most suited for hardwoods.
In fact, they can be used in lieu of sandpaper. The surface produced will be cleaner compared to just sanding. It does not block the wood pores with dust. It doesn't leave any fibers either. This cannot be said of common sandpapers.
Variants
Aside from the different card scraper sizes, there are available in numerous types. One of the most commonly used is the rectangular type. These are usually the size of a postcard. Another well known type is the gooseneck scraper.
The shape is somewhat like a French curve. It is utilized for curved surface scraping. There are also flexible rectangular scrapers used on violin fingerboards and other shapes.
Composition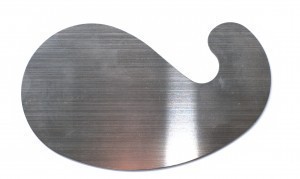 These are usually constructed from carbon steel. But many brands make the scrapers using different sizes. Some people like to create their own scrapers by slicing them off from saw blades. The burred edge is the cutting point of the tool.
It is a sharp metal hook that is turned to the tool's edge. This is done by burnishing it using a metal rod. Prior to burnishing, a sharpening stone is used. Makers of cabinets usually joint the square edge. This permits a fine burr to turn on the sides.
Application of the Tool
The cabinet scraper is held by your fingers. The hands are on the sides and oriented to the travel direction. The cutting edge angle is determined by the tilt degree.
Getting the proper angle will require some practice. Besides the tilt, you can flex the tool a bit by grasping the edges. This will make the corners rise so it does not mar the object being worked on.
Regardless of the card scraper sizes, the tool may be pulled to the person using it. However, some people prefer not to do it. The reason is that pulling may cause some dipping. This could generate a rough surface.