Cambord Castle Dimensions
Chateau de Chambord is a royal castle located at Chambord,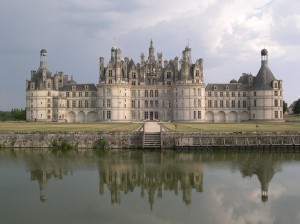 Loir-et-Cher in France. This castle is indeed very recognizable due to its very definitive French Renaissance architecture. It shows the amazing architectural combination of traditional French medieval and classic Italian. Within the Loire Valley, Chateau de Chambord is the largest castle you can see. Ironically, this castle was built to function only as a hunting lodge for Francis I. The construction of the castle lasted for almost 30 years from 1519 to 1547.
Structural Design
Chateau de Chambord was a Renaissance design castle. This huge structure consists of a central keep that is surrounded by four huge balcony towers situated one at each corner. The central keep also serves as a portion of the front wall of a bigger complex where two more huge towers are standing. The overall dimensions of the castle are 160 meters by 120 meters. Within the castle, there are a total of 440 rooms, 84 staircases, and 365 fireplaces. The four rectangular vault hallways found on every floor have a shape of a cross.
Chateau de Chambord also has enough number of stables that can accommodate 1,200 horses at once. There are about 1,800 men and women working in the castle. The castle highlights its 128 meters of facade, sculpted columns that numbered to more than 800, and a roof that is elaborately designed. The entire castle is encompassed by some 13,000 acres or 52.5 square kilometers of wooded park and game reserve where there is an abundance of red deer. The castle is enclosed within some 31 kilometers or 20 miles circumference of wall.
There was never any structural defenses found in Chateau de Chambord to act as a form of protection from its enemies. What seemed to be defensive towers, walls, and incomplete moat are for decorative purposes only even during the years of anachronism. Some architectural elements of the castle were all fashioned from the Italian Renaissance design such as loggia, open windows, and an expansive outdoor area located at the top. These elements were somewhat out of place in the cold weather of central France.
The roof design of Chateau de Chambord stands in an interestingly direct contrast with much of its masonry. This rather elaborately decorated design has been likened in more than one occasion to a town's skyline. It has three kinds of chimneys and eleven kinds of towers, all without proportion. These structures are almost always set-up at the corners near the huge towers. They have a resemblance of Leonardesque and north Italian designs.
The most impressive architectural highlight of Chateau de Chambord is the amazing double-helix open staircase that serves as the centerpiece of the whole structure. The two helixes of staircase climb upward to the third floor without intersecting each other at any portion. These staircases are lighted up by some kind of a lighthouse that is located at the highest portion of the castle. There are assumptions that it was Leonardo da Vinci who designed this amazing staircase.