How Large is a Basil Plant?
Basil is a fragrant herb that easily turns a simple dish into an aromatic and flavorful one. If you are interested to grow a basil plant for yourself, right in the comforts of your own garden, don't worry. We will give you that and more, including details on how large is a basil plant.
Basil originated from India but it has grown quite popular in Italy due to its great contribution in turning ordinary Italian recipes into fantastic ones. It even became a symbol in Italian cuisine.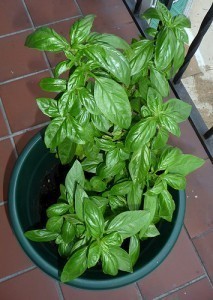 The main allure of basil is its lemony flavor and quite exotic scent. It grows easily during summer as it loves the warm weather.
How Large is a Basil Plant
The size of a basil plant varies according to its varieties. Today, more and more varieties of basil are being known. Each has its own set of unique characteristics. Some basil plants can grow as tall as six feet. There are also three-feet varieties. Some basil plants also grow short, at only 6 inches or half a foot.
Creating a Herb Garden
If you intend to grow basil right at the comforts of your customized garden, you may well do so. On the average, a mature basil plant can go at two and a half feet tall and about as wide.
It is easy to grow basil in a pot, as long as you have a place to put it where it will enjoy as much sunlight as possible – at least six hours of sunlight every day. You can put it in the window or patio and make it a decorative ornament at the same time.
Planting basil presents a number of benefits. You should take these growing tips to heart if you want to take advantage of those benefits:
* Before deciding on growing basil, make sure that all requirements are available to you.
* You can easily grow basil in a container that is at least 8 inches tall. Make sure that there are holes at the bottom of the containers to ensure that your plant will not drown.
* Put soil appropriate for container gardening into your pot. Basil requires a special mix of organic soil to grow.
* You may start your basil plant from seeds, which can be bought in local garden stores as well as online. Plant the seeds at least a quarter of an inch below the compost. For the coming days, you will have to water the seeds well, keep the soil temperature at least 75 ºF, and you will soon see it germinating. Take it from there and you will in no time see yourself harvesting your very own grown herbs.