Having a business card handy is always a good idea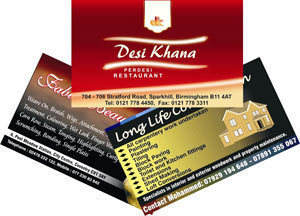 because you don't know who you might just meet at random.
There are times when you come across an old associate or meet new people with whom you can do business with and giving your business card to these people is an effective way of having them keep you in mind should they have a need for your products or services.
However, a lot of thought should go into the design of your business card. From business card sizes to the information that you will be putting on your cards can spell a huge difference between an effective business card and a mediocre one that usually finds itself tossed in the bin.
Business Card Sizes
A standard business card usually measures 3.5 by 2 inches. This is the actual size of the business card already. However, for printing purposes, you may want to add a bleed area so you don't get those tiny white borders that look off-putting on the finished product.
Typically, a bleed area of one-eighth of an inch is okay. With the bleed area, this card will measure 3.75 by 2.25 inches.
For this type of business card, you can use either side or both, depending on how much information you want to include.
Another type of business card has a folded design. This one has an approximate size of 3.5 by 4 inches once you have cut it down to size. If you include the bleed area, this one measures about 3.75 by 4.25 inches.
With a folded business card, you can use the top side as well as the inside for your business information and contact details. Do not go overboard and use the back side as well since you don't want to clutter your business card with too much information. Simply stick to the basics.
Designing Your Business Card
When it comes to the design; colors, images and details play an important role. When choosing colors, be sure that you do not use those that will clash or those that people will find hurtful to the eyes.
Using your company colors or colors that represent your products is ideal. When it comes to images, never ever use clipart. Use original images, particularly your company logo or product branding.
As for the information on your card, you contact details should of course be included. You can also put in your specific products or services using very little words as possible. You do not have to put in descriptions of your products or services but just their basic names will do.
Make sure to emphasize what your business is all about so that people can readily associate you with your industry in case they will have a need for you in the future.