There are several types of binder dimensions, with the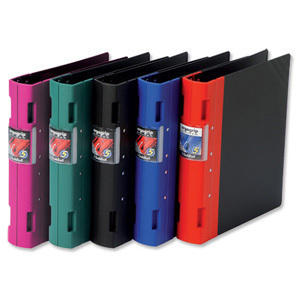 size dependent on the papers to be held. Because the US and Canadian standard paper sizes are not the same as those used in ISO standards, the binders used there are different.
Most Frequently Used Ring Binders
The most common type used in the US is the three ring system for 8 1/2 x 11 pages. The typical 8 ½ x 11" paper sheet spaces the three holes by 4 ¼". These binders are usually sold with ¾ inch steel, good for holding 95 sheets of letter size papers. This is equal to 190 pages. A one inch steel is good for up to 115 sheets, equal to 230 pages.
Binder dimensions in Europe and other countries are designed for the A4 paper size (11.69 x 11.54 inches). These ring binders have four holes. According to ISO 838, the two holes are 80 mm distant. The four-hole type has a distance of 80 mm each. In Sweden, the hole distances are 21 m, 70 mm and 21 mm.
Note: ring binders are also known as files in Britain.
Design, Purpose and Construction
These binders are simply folders where punched papers can be held via clamps. They are typically spring loaded. Binder closures can be O ring, D ring, slanted D ring or square. Others are rods, with some employing different latching systems.
While the binder dimensions are geared for 3 or 4-hole types, some personal organizers use six or seven holes. The rings are typically on the left, but some are on top.
The binder covers can be made from a variety of materials. Those made of vinyl possess a clear pocket for the cover page. Some incorporate pockets in the inside cover too. There are also zipper binders available. Binders today can also be customized or laminated.
Other Types of Binding
The double loop wire binding has teeth that fit in the paper holes. Usually the wire is made of steel. The binder dimensions for double loop wire differ, but their purpose -for notebooks, calendars, etc- is the same.
The spiral bindings are frequently seen in notebooks, and are available in metal or plastic. The plastic comb binding has the advantage of keeping the book flat when it is opened.
Other types of binding include stapling and thermal tape. Stapling is frequently used for making little booklets. The thermal tape consists of a cloth applied to the book's spine. This is one of the durable types of binding. Perfect binding utilizes hot glue to keep the spine together. A cover can be attached to it.
Choosing Binding Equipment
Each type has its own characteristics and traits that have to be examined. With a spiral binding machine, check out the punching capacity, as this determines how many sheets it can hold. Also look at the paper size it can accept and the bind capacity.
Whatever kind of binder dimensions you need, it's likely you'll find them. Most office supply stores offer assorted sizes and types.