Biggest Metropolitan Areas
The biggest metropolitan areas are based on the population. The figures given here are only approximates, as differing methods used for data gathering produce slightly varying results.
The biggest is Tokyo, Japan. Its population is 32,450,000 with an area of 8,014 sq km. The density is 4,049. Seoul-Incheon-Gyeonggi in South Korea is the second biggest. Its population is 20,550,000 spread over an area of 5,076.
The third is Mexico City in Mexico. The population is 20,450,000 and the area is 7,346. The fourth biggest is New York City in the United States. Its population is 19,750,000 and the area is 17,884 sq km. The fifth biggest is Mumbai, India. The current population estimate puts it at 19,200,000. Its total area is 2,350 sq km.
The sixth biggest metropolitan area is Jakarta, Indonesia. The area is 5,100 sq km. It has a population of 18,900,000. At number 7 is Sao Paulo, Brazil. The inhabitants number 18,850,000 and the total area is 8,479 sq km.
Delhi of India is at number eight. It has a total area of 3,182 sq km. 18,600,000 are living in the city. Osaka-Kobe-Kyoto in Japan is at number 9. Over 17,375,000 people live there. Its total area is 6,930 sq km. Rounding off the top ten is Shanghai, China. Studies put the population at 16,650,000. The total area measures 5,177 sq km.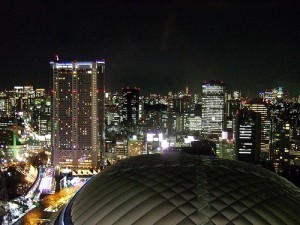 Other Large Metropolitan Areas around the World
At number 11 is Metro Manila, Philippines. The total area is 2,521 sq km. The current estimates put the population at 16,300,000. Hong Kong-Shenzhen is at number 12. Its population is 15,800,000. The area measures 3,051 sq kn.
Los Angeles, in the US is the 13th most populated. The population is 15,250,000 while the area measures 10,780 sq km. Kolkata in India is at number 14. Over 15,100,000 people live in it. The total area is 1,785 sq km. Moscow is the fifteenth largest. The population has been pegged at 15,000,000. The area measures 14,925 sq km.
Greater Cairo in Egypt is at number 16. The population number is 14,450,000. The area is 1,600 sq km. Greater Buenos Aires n Argentina is at number 17. The population is 13,170,000. The area it covers is 10,888 sq km.
The list of the biggest metropolitan areas is subject to change. As stated earlier, various methods for gathering data is done. Furthermore, the people are always on the move. This means the figures could change any time.