The current biggest airport in the world is the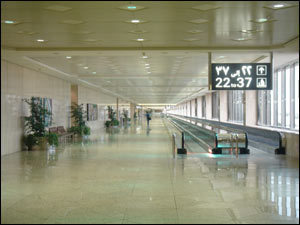 Dammam King Fahd International Airport situated approximately fifteen kilometers off the northwestern parts of Dammam.
Dammam is the capital city of the Eastern Province of Saudi Arabia. It is considered as the biggest airport in the world in terms of land area. The land measures approximately 780 square kilometers and is even bigger than Bahrain, a country situated close to this part of Saudi Arabia.
Brief History
The airport's general infrastructure was finished at the end of 1990 but no commercial flights were offered at this time. It did play a huge part in history however when, back in 1991, the airport was utilized as a storage facility of aircraft from Allied forces involved in the Gulf War.
Several years later, in 1999 to be exact, the airport was finally operational as a commercial airport providing flights in and out of the country.
Where flights used to operate in another airport, the Dharhan Airport, all these were transferred to the mode modern and upgraded facilities of the Dammam King Fahd International Airport.
How to Find Dammam King Fahd International Airport
The airport is actually situated between the cities of Qatif and Dammam; approximately twenty-two kilometers off the latter. Major roads link the airport to these two cities; with the north exit leading to Qatif and the south exit leading to Dammam.
Facilities and Amenities
This modern airport boasts of world-class facilities and amenities to make passengers flying in and out as comfortable as possible. The airport is actually one of the first airports in Saudi Arabia to provide duty-free shops to their clients.
There are also quite a few other specialty shops where you can find practically anything that you need, from souvenirs and gift items; to personally hygiene products to fashion items plus a lot of other items.
Restaurants, coffee shops and an internationally popular doughnut chain are likewise available within the airport's premises so passengers can lounge comfortably while waiting to board or taste some of the local fare before getting out of the airport.
If passengers need extra cash, there are banking facilities to accommodate withdrawals and other banking transactions.
If you are traveling with kids, there is a designated play area that kids can stay in while waiting to board. There are likewise designated smoking rooms in the restaurants, ensuring that those who do wish to be exposed to secondhand smoke will have their own comfortable area that is smoke-free.