Baby Grand Piano Dimensions
Don't let the name confuse you, Baby Grand Piano Dimensions show that ebven this 'small' version of a piano is pretty big. One of the most famous types of piano, a b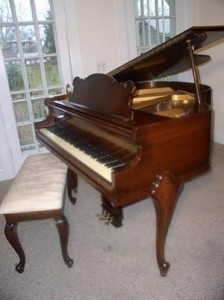 aby grand piano has horizontal strings that are used to produce a more accurate and fuller sound. This musical instrument is sometimes called by other names like petit grand or living room grand. Even if it is smaller than a grand piano, it produces better sound quality compared to upright pianos. Learn more about this instrument by knowing the standard baby grand piano dimensions.
The Baby Grand Piano Dimensions
A baby grand piano is very popular amongst music lovers and pianists, especially those who do not have enough space inside their homes. Its length is around 4 feet 11 inches to 5 feet 6 inches. In terms of width, this music instrument is at least 6 feet wide. Its weight depends on materials used, but normally, it weighs 500 pounds to 1,300 pounds.
Additional Information and Other Interesting Details
A baby grand piano is one of the most expensive musical instruments. Some of the factors that contribute to its relatively high price are the features available, the materials from which it is made of as well as the brand. Prices usually range from $2,000 to $3,000. To save money, it is best to check out newspaper listings, websites and local music stores for used instruments.
Despite the extravagant cost of a baby grand piano, many people buy this musical instrument because of its aesthetic value as well as sound quality. It is best to purchase a piano made of hardboard and hardwood materials like Western Sitka Spruce. Expect it to last for several years if it is made by any of the top piano makers in the world including Yamaha, Cameron & Sons as well as Schoenut.
Regular cleaning and proper maintenance are important to maximize the utility of a baby grand piano. Maintaining this musical instrument is not that difficult. Make sure that you tune it three times a year. Additionally, let a piano expert check its pitch whenever you move it to another place.
Aside from regular tuning, it can help to put a humidifier inside the room where the baby grand piano is to be placed because humidity can affect its pitch. Whenever you clean it, avoid using dishwashing soap with harmful chemicals. Use a soft cloth or a duster to remove dirt. To remove stains from this instrument, damp a soft cloth in a mixture of water and mild detergent. Moreover, ask help from experts if you want to replace piano strings. Baby Grand Piano Dimensions need to be known simply to see if this is the right fit for you.