The infusion pump is a special pump used to administer specific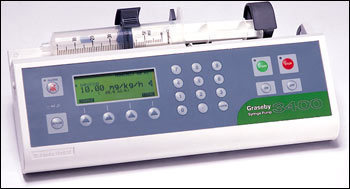 doses of nutrition or medication to patients. These pumps are utilized in various hospitals all over the world.
Syringe Infusion Pump Dimensions
The following specifications are for the Plenum syringe infusion pump.
The housing measures 265 (L) mm, 110 (H) mm, 150 (W) mm and weighs 2.2 kg. The infusion accuracy is +/- 2%. It can work with various syringe types including BD (10/20/50/60 ml), Dispovan (10/20/50 ml), Terumo (10/30/50/60 ml), Pharma (10/50 ml), Braun Prefuser (50 ml) and many others.
The flow rate syringes are 0.1 – 200 ml/hr for 50/60 ml syringe, 0.1 – 120 ml/hr for 30 ml syringe, 0.1 – 100 ml/hr for 20 ml syringe and 0.1 – 060 ml/hr for 10 ml syringe.
The infusion volume limit is 60 ml. It can be programmed every 0.1 ml. The KVO rate is 1 % of the chosen infusions. The bolus rate is good for up to 1000 ml/hr.
The occulation pressure limits are low 0.4 +/0.08 kg/cm2 (bar), medium (0.9 +/0.20 kg/cm2 (bar) and high 1.2 +/0.25 kg/cm2 (bar). The driving mechanism is load screw. Its power consumption is 12 watts maximum.
Other Facts about the Infusion Pump
Whatever the differences in infusion pump dimensions, they are all indispensible in hospitals. Aside from providing nutrition to patients that are unable to eat, the pump is also used to administer medication to patients. After surgery medication is usually given by way of these pumps.
Infusion pumps come in many forms and configurations. The setup will depend on what it is required to do. Many are available for purchase, and there are also some that can be leased. The latter are used by patients who need it at home.
Design and Configuration
The basic design of the pump means it can deliver minute quantities of medication via an IV drip. This makes it possible to serve small doses to patients. In cases of long term medication infusion, the infusion pump will be handy.
The infusion pump also means nurses need not always be at the side of patients. Aside from slow and steady doses, the pump can administer medication on specified schedules. These devices have a feature that prevents overdose from occurring.
Even if the infusion pump dimensions differ, they all have buzzers or alarms to indicate if there are problems with the device. These pumps also have numerous controls for managing the dosage, the rate of administration and other parameters.