How Many People Does A Sheet Cake Feed?
To answer the question how many people does a sheet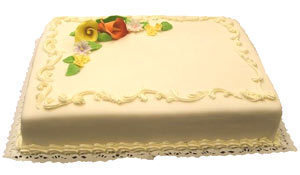 cake feed, we need to answer a few other questions. What is a sheet cake? How big is a sheet cake? Are we talking about a commercial sheet cake or a home sheet cake? What is the serving size that you should offer your guests?
What is a Sheet Cake?
A sheet cake is a pastry variety baked in huge pans. It is called as such because it is usually baked in sheet pans, sometimes a jellyroll pan. A sheet cake does not usually come in layers. It is basically a single layer cake that is large in size and is decorated simply. More often than not, you will find sheet cakes frosted with very minimal decorations on top. As such, they are considered as an inexpensive alternative that could feed a lot of people for a small price.
Since they are baked in flat, huge pans, sheet cakes usually require special handling. You also need to acquire a skill to be able to accomplish baking a sheet cake. But it would be very advantageous if you learn to bake one. Sheet cakes make for a good party food, especially during birthdays, baptism, or just about any kind of gathering there is.
Sheet cakes are made available in a variety of flavors. You can choose the flavor you want if you are making one. If you are buying a sheet cake, expect chocolate and vanilla flavors to be commonly available.
The Size
Sheet cakes are huge. Do you want to know how huge? Well, that depends if we are talking about commercial or home sizes.
Commercial sheet pans are sized at 16"x24"x1". This is a full sheet pan. One half sheet cake is sized at 12"x16"x1". The smallest sheet cake, which is a quarter sheet is sized at 8"x12"1". Home sheet cakes are sized at 12"x17"x1" and 10"x15"x1".
Commercial sheet cakes can serve 12 to a hundred people — depending on the size of the cake and the serving size you serve each guest with. Normally, a slice of 2"x2" will serve 24 people from a quarter sheet cake, 49 people from a half sheet cake, and 96 people from a full sheet cake.
So how many people does a sheet cake feed? That depends whether it is a commercial cake or a homemade cake, on the size of your cake, and on the serving size you decide to offer your guests.