Choosing the right bed for you can be a bit of a challenge. There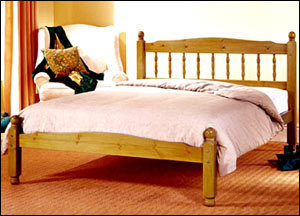 are several factors that you need to consider, foremost of which is the space available in the bedroom that can comfortably fit your bed.
Next, you have to consider your size. If you are too tall, you might find that there are bed sizes that are not suitable for tall persons. The width may be right but the length may just be too short for you.
Finally, how many people will be sleeping on the bed? For a single sleeper, a Double bed size can be just right. The size of a Double bed, also known as a Full bed, is approximately fifty-four inches in width by seventy-five inches in length.
Couples may find a double bed quite uncomfortable leaving not enough room to move around on the bed while sleeping.
Finding the Right Bed Size
A Double bed can fit into any standard-sized room. As mentioned, this is ideal for an adult single sleeper. On the other hand, a Single or Twin bed is recommended for older kids, usually teenagers.
A Twin bed can be used by your kids well into their adulthood, until they move out of the house. This means that you will have plenty of years to use the bed, giving you considerable savings over time.
This is why choosing the right bed size and the type of mattress to go with your bed frame is very important. There are mattresses that you may find selling for a much lower cost but you should double-check whether or not they can withstand years of continuous use.
For couples, a Queen-sized bed is ideal, but if you truly want to have plenty of room for two people on the bed, a King bed is what you need.
Choosing Bed Types
Other than the usual bed mattresses, there are also different bed types that you may want to look into when choosing beds for you and your family.
If you have a limited space and your kids need to share one bedroom, you may want to get them a bunk bed where there is a top and bottom bed for each child. On the other hand, if there is also very limited space in the bedroom but this will be used by one child only, you may want to look into getting a loft bed.
A loft bed is somewhat like a bunk bed except that there is no bed at the bottom part. What you have instead is extra space directly beneath the top bed for a study area or a small storage area.
Other types of beds are adjustable beds, air beds, chest bed and canopy bed.