Biggest Diamond in the World
The biggest diamond in the world was the Cullinan Diamond.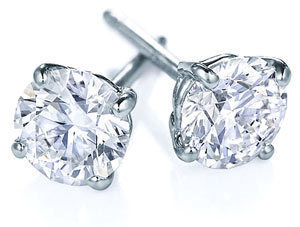 When it was discovered in 1905 in South Africa, it had over 3,000 carats and weighed over 1.5 lbs. However, the diamond was cut into several pieces. The following are the largest cut diamonds in existence today.
The Golden Jubilee
This diamond weighs 545.67 carats. It is the biggest faceted diamond today. It was discovered in 1985 at the Premier mine in South Africa. When it was uncovered, the stone weighed 755 carats.
The Golden Jubilee was given to the King of Thailand in 1997 on the 50th year of his ascension to the throne. It was there that the diamond was christened the Golden Jubilee. Prior to that it was known as the Unnamed Brown. The Golden Jubilee has been estimated to cost anywhere from $4 to $12 million.
The Cullinan I (the Star of Africa)
The Cullinan I weighs 530.20 carats. It is the biggest piece sliced from the Cullinan Diamond, which was the biggest diamond in the world before being cut.
The Cullinan I dimensions are 53 mm x 44 mm x 29 mm. The facets number 76. The diamond is now a component of the Crown Jewels of England. On display at the Tower of London, it has an estimated value of just over $400 million.
The Incomparable
The Incomparable weighs 407.48 carats, but when it was found it weighed over 890 carats. The diamond was discovered in Mbuji Mayi in the Democratic Republic of Congo. It took over 4 years of study before the diamond could be cut. The dimensions are 53.90 × 35.19 × 28.18 mm. It is noted for its clarity and stunning yellow-brown hues.
The Cullinan II
The Cullinan II weighs 317.40 carats. The diamond is shaped like a cushion. It is part of the Imperial State Crown of Great Britain. The diamond was cut from the original Cullinan diamond. The diamond itself was christened after Sir Thomas Cullinan who was at the mine when the diamond was discovered.
The Spirit of de Grisogono
The Spirit of de Grisogono weighs 312.24 carats. It is the biggest black cut diamond today. There are 702 white diamonds on it. The original weight was 587 carats. It is one of the most famous diamonnds in the world today.
While the Golden Jubilee is the biggest diamond in the world, the search for larger diamonds continues to this day. With improved mining technology, other great diamonds may be unearthed soon.